When journalist Sunetra Choudhury started writing about the lives of the rich and famous behind bars, little did she know, that it would be an emotional roller coaster ride for her. Her recently released book, Behind Bars, does accomplish what it set off to do, that is, highlight famous prisoners and their experiences in Indian prisons.
But, what is heart-warming is that it also brings to the forefront, voices and stories that need to be heard- whether they are from a high-profile person or a nameless citizen. She highlights experiences of famous names like Amar Singh and Peter Mukerjea amongst few others, but also of the underdog.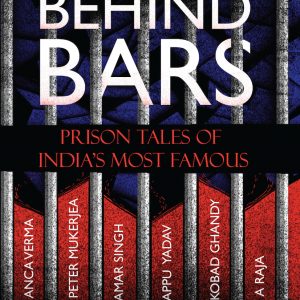 She talks to Bookedforlife about the experience of writing the book and the cases that touched her most.
What kind of psychological impact did the research process for the book have on you? 
The book impacted me at many levels. Initially, it consumed me just as a journalist and a story teller. I was gleefully uncovering because I couldn't believe so much of this was happening right under our noses. It was the feeling of getting a great scoop and the book format allowed many of my subjects to trust me more. But then, it started disturbing me.
Wahid's story especially disturbed me because I had rushed to the spot to report on 7/11 so I felt that I was to blame as well for not questioning the investigators enough. (note to readers: Wahid's story is highlighted in the book. He was acquitted in the 7/11 Mumbai train blast case). If it took Wahid 10 years to prove his innocence, wasn't it because journalists like me had only bothered to speak to the ATS and not listened to lawyers like Shahid enough? It was all very eerie because around the time that the book nearing completion, Rafique's acquittal also happened in the Delhi blasts.
So, basically, we are constantly making this mistake of trusting law enforcement agencies and not paying any attention to what the accused party has to say. And, I felt that because of that someone like Wahid had suffered, and now he was going blind.
Someone like Rehmana, had spent years in jail, just because she was married to a terrorist. (Note to readers: Rehmana's story, as mentioned in the book, highlights the plight of an unsuspecting woman who has married a man currently in custody on charges of terrorism). Every time I would visit her in her tiny apartment, I would look at her existence among files in a tiny room and again, feel guilty. The tales of torture made me angry, kept me up at night but I realized that the only thing I can do, is one, to tell their stories well. And also, to make sure that my journalism changes…that I question authorities more!
There is a lot of wealth in the information you have been able to access. Do you believe that it should lead to a change in the way prisoners are treated and the current conditions in Indian prisons?
Yes, yes, yes! That is the only thing I want. That's the reason I want everyone to read it. That's the reason it went from being the book about rich and famous in jails, to being about prison tales of the unfortunate few. In between the stories of the high profile, are the stories that really reveal what prisons are like.
If there is one story that does that it is the one about the NRI in Tihar jail who is not named. Can you imagine that even today in Tihar, Kalmadi can spend all his days in the plush Vipassana ward but others have slashers and beatings and stabbings to worry about? There are 40 odd deaths in a year-why doesn't anyone care?
How much time did the entire process of research and writing take? 
This book took me a year from start to finish, but I had to be really disciplined in order to do that!
A whole lot of research and fact-substantiation has gone into each case. Yet, it reads like a very interesting story that common people can understand. How challenging was it to write and present the information in this manner? 
Thank you for saying that. It is exactly what I was aiming for. I guess it helped that they are all very compelling stories. I chose my subjects because they were stories that I wanted to read about. So for example, what struck me about Rehmana was the poetry of it all, the tragic love story. A woman who puts an ad in the paper because of her circumstances of being physically not 100%, ends up marrying a terrorist and even though their marriage is not consummated, she is now going to spend the rest of her life (if needed) fighting to save him from death row- I mean, for me, you can't get a more moving story. It really broke my heart.
Many of the cases you discuss are high-profile ones. Were you ever daunted by the prospect of being under scrutiny? 
Yes, especially with Wahid's case. Because he talks about being tortured by very eminent, decorated police officers. But, I also spoke to these police officers. In the end, you have to take all the versions and tell what you perceive as the truth. That's all you can do. Also, you can't worry about the consequences- I don't think that's a storyteller's job. In a book format, where your reader has also invested in you, they also understand, I think, where you are coming from and what your intentions are.
I was only worried about my subjects- would Kobad be okay in jail? Would his jailors start harassing him because of my book? I wouldn't want to add to the problems of any of the inmates in jail like him or Peter, because of my writing. (note to readers: Maoist leader Kobad Ghandy's account is the last one in the book, and a particularly moving one, given that he is still waiting for justice at 70)
Is there anyone you would have loved to interview but could not include in this book?
Yes, RK Sharma, the IPS officer. In his story there's such irony. He was the DGP jail who ended up in jail himself. He also fought for the right of inmates to make phone calls which was revolutionary for them. It would have been brilliant and we spoke and exchanged mails but I think he wants to tell his own story. And, Subrata Roy
Which case amongst those you presented do you believe proved to be the most challenging to write about? Why? 
I think Peter's was the most challenging case to write about. One, because he's the only one whose communication with me was through intermediaries and the process of asking counter questions was very elaborate. It was also challenging because we haven't heard the last word yet, it is forever changing. And yet, I felt it was important to include him in my book because it was the ultimate case of a privileged gent in the dark, dreary environs of Arthur Road jail.
Which one is your favourite story? 
Rehmana's for the reasons I mentioned above which perhaps also led to me writing it much better than the others, I think. Amar Singh's because it shows how the smallest jail stint can be life-changing even if you do get luxurious benefits and the story of the juvenile, because it is not just a jail story, it is also an insight into the dangerous lives of the young in the city.
Sunetra Choudhury's Behind Bars is an eye-opener to a world that has  been more or less hidden from public view. It presents an honest insight into a strange world where lawlessness can also exist in the confines of law! Do read a full book review of "Behind Bars" next week on Bookedforlife.
Amazon link for Behind Bars: https://www.amazon.in/dp/9351941310/ref=cm_sw_r_cp_api_mPJXybKJGFNBW