A soul-stirring tryst with poetry is not what one generally expects young children to do. But, that would be underestimating the power of poetry. It is said that poetry is language at its most distilled…and most powerful. No wonder then, poetry can be a powerful tool for change. That the simple act of writing a poem could spiral into a strong movement for change, is indeed a miracle! Since 2011, 100 Thousand Poets for Change has been working with poets, writers, artists and musicians to help organize events around the world for peace, justice and sustainability. This global movement has spread to more than a hundred countries in the world.
The sweet fragrance of this movement has seeped right into India as well. Kitab Khana, the popular bookstore in Mumbai, and a hub for cultural activities and events hosted this poetry festival for the sixth time. The four-day event, curated by Menka Shivdasani and co-presented this year by Deepankar Khiwani, took place on October 26, 27, 28 and 29, 2017, with the generous support of Mrs Amrita Somaiya, Director, Kitab Khana, and her team.
The festival was packed with many events and sessions. However, the cherry on the cake was clearly the popular Sunday morning event for children, conducted by Rati Dady Wadia, (Former Principal of Queen Mary School) on October 29. Mrs. Wadia, who hosted the event that morning, is an educationist and through her long and successful career, she has experienced first-hand the power of words and the miracles they can bring. Kitab Khana was packed to the brim- quite literally with a huge gathering of people eager to witness the event, and metaphorically, with the collective energies of the children and adults present there!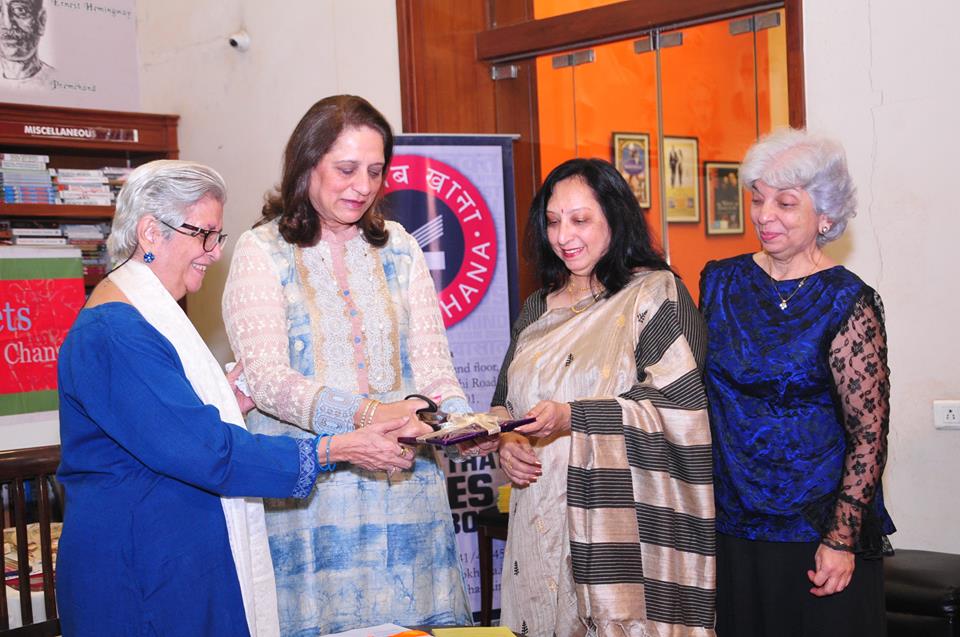 The event started off with the book launch 'I Believe' (2015) 'Beauty is a Step of the Divine' (2016), a poetry book that featured poems written by schoolchildren in Mumbai, representing various schools (Activity High School, Campion School, Queen Mary School, J.B. Petit High School for Girls, Cathedral and John Connon School) and students of Writer's Bug. The beautiful illustrations and impressive cover of the book were designed by renowned author of children's books, Katie Bagli.
Chief Guest Urvi Piramal launched the book. She is well known for her business acumen, but what truly came to light on the occasion were her ambitious philanthropic goals which include positively impacting one in every five people globally.  Her inspirational and encouraging speech set the tone for the morning.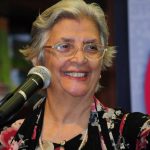 We snatched a few moments for a short chat with Mrs. Rati Dady Wadia, about the importance of honing the aesthetic skills of young children…
How is the 100 Thousand Poets for Change movement doing in India?
It has come up in many cities in the country. In Mumbai, we have been having it for seven years.
In your long and successful career as an educationist, what importance does poetry have in the lives of young children?
 Poetry has rhythm and music in it. It is very powerful because of that. It touches the heart so much. One has to be sensitive towards it- not only poetry but also music and art. In Shakespeare's Merchant of Venice, Jessica says that she feels sad when she hears music and Lorenzo replies that this is because she is intrinsically sensitive by nature. One has to be sensitive to all the five fine arts: music, poetry, sculpture, art and architecture. Our 2016 poetry festival was in fact centered on 'The Five fine Arts'.
How can parents develop these skills in their children?
It is very important for us to encourage children to get aesthetic joy. With the 2015 edition of the 100 Thousand Poets for Change, we took on the theme of the five elements for the poetry festival.  I feel that as parents and teachers we all need to hone the tastes of our children. We must take them to art galleries, music concerts and give them the opportunity to write creative poetry. There is such a sense of satisfaction even when you write a small verse! All the fine arts should be a part of our lives. We need to make our children sensitive to this. Try to fill your children's lives with all that is beautiful. There are so many families that do not experience this kind of joy at all!
She ends by quoting Percy Shelly who said in a poem, "Our sincerest laughter with pain is fraught; our sweetest songs are those that tell our saddest thought". Indeed, with movements such as 100 Thousand Poets for Change, appreciation of poetry and by extension, a sensitivity to beauty and creativity may well become integral to our lives!