Bollywood is a part of the Indian psyche. It is firmly entrenched in our collective consciousness. However, in a country where collectors appreciate beautiful and unique things, Bollywood memorabilia used to be largely ignored. That is, until OSIAN, India's pioneering Arts Institution and Auction House earnestly attempted to collect and preserve Indian and World cinematic heritage.
It all started with the landmark auction 'The Historical Mela – ABC: Art, Book and Cinema'. This event pioneered a new and refreshing viewpoint- that of looking at film memorabilia with a collector's eye. Two other auctions firmly strengthened the demand for Indian film memorabilia. Osian's auction of Rare & Vintage Indian Film Memorabilia in September 2014 and consequently in June 2017 wooed collectors and film enthusiasts with priceless pieces of film history.
Film memorabilia can play a major role in the education of many subjects beyond film and media studies. Given the fact that Indian cinema itself is well over 100 years old, it provides crucial references from a historical point of view.  "It is not very far away when the finest scholars and researchers will flock to India to understand the profound role the cinematic and related arts have played in developing culture and a thousand influences thereon. The auctions have facilitated this journey just like Film Festivals facilitate a film appreciation culture. One has to only see the growth of the Hollywood memorabilia market to understand the vast energies that get energized when the film fraternity, media and the public work in unity to respect one's history, and hence one's current creativity," explains Founder Chairman, Neville Tuli.
Bollywood memorabilia: Catalogues to cherish
The Greatest Indian Show on Earth is the catalogue pertaining to Osian's auction of Rare & Vintage Indian Film Memorabilia. The two catalogues artfully present the rich and diverse treasure of Bollywood memorabilia that Osian has collected, salvaged, sourced and preserved over years.
The catalogues are works of art in themselves. Akin to a bespoke coffee table book they bring out the rare and precious moments and milestones of Indian cinema that would otherwise be lost. Flipping through the pages will take you down the Bollywood memory lane.
The Greatest Indian Show on Earth (2014)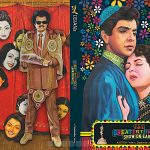 The enticing cover depicting Dilip Kumar & Meena Kumari in their famous embrace in Yahudi tempts the viewer to delve inside.  One of the very first images in the catalogue is a painting by Arpana Caur. It depicts the famous song 'Pyaar hua, Iqraar hua' showcasing the legendary under the umbrella song scene of Raj Kapoor and Nargis from the film Shree 420. While nothing can beat holding the actual painting, viewing it in the catalogue is grand enough and sets the tone for a nostalgic journey. This catalogue is packed with such artfully done posters, prints and photographs.
It showcases some of the earliest films made by Prabhat Film Company. It then moves on to the Kapoors- India's first family of films. Right from Prithviraj Kapoor, Raj Kapoor, Shammi Kapoor, Shashi Kapoor, Rishi and Randhir Kapoor to the Manish Malhotra costumes worn by Karisma Kapoor and Kareena Kapoor inspired art by artist-fan Nitin Utge, the catalogue depicts in finesse rare cinematic moments. It also features vintage and rare Bengali & Classical Music Cover Designs with inspiration drawn from artists such as Jamini Roy with Paritosh Sen actually designing record covers for Rabindra Sangeet and his plays.
The iconic images of superstars such as Dharmendra, Sunil Dutt, Rajendra Kumar, Raaj Kumar, Manoj Kumar, Rajesh Khanna, Amitabh Bachchan and Shahrukh Khan among a host of others appear as one browses ahead. Of course, how can one forget the enigmatic leading ladies? Right from the gorgeous Madhubala, to Hema Malini (along with her brand campaigns), Madhuri Dixit, Sridevi, Aishwariya Rai and more, the beautiful belles of Bollywood make an appearance here. Pictures depicting international locations, information about collectibles, pictures of some veritable collectibles like show cards, tickets, rare music records and so on also add to the element of interest.
While the visual delight on browsing the catalogue is definitely a key feature, the nuggets of information that appears along with the artworks and photographs is also very interesting, and highly educative. These little bits of information and some rare stories make for some great trivia which will be of interest to anyone who loves Indian cinema.
The Greatest Indian Show on Earth 2 (2017)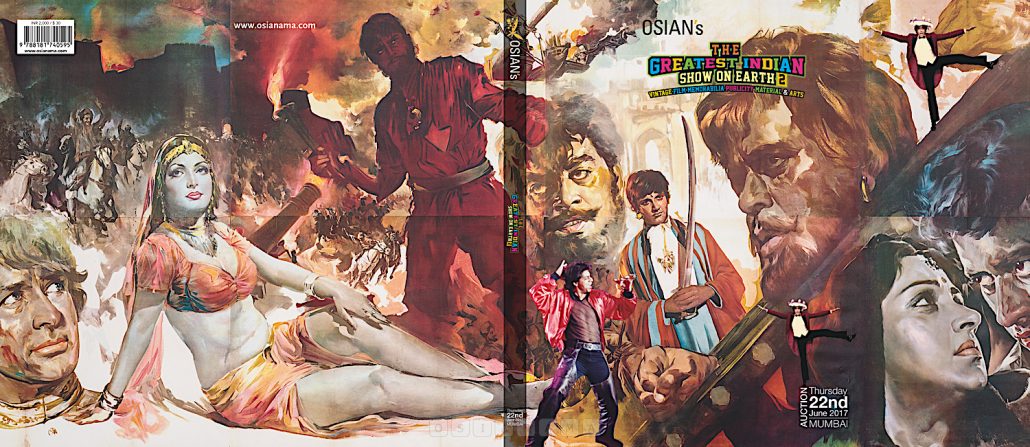 This catalogue continues the enthralling depiction of Bollywood at its finest. This one is also quite informative, with a lot of text to complement the images and enhance understanding of Indian cinema. It starts with a depiction of the early years of Indian cinema- 1925 to the 1940s. Again, there is a focus on the Kapoors with a depiction of photographs, movie posters and artwork. There is a section on Dilip Kumar, Dev Anand, Helen and Amitabh Bachchan as film legends. Mughal-E-Azam, one of the greatest Indian films ever made, also gets a dedicated section. Besides the movie posters and photographs, it is interesting to see paintings on the same by M.F.Hussian. The catalogue also explores Satyajit Ray as a draughtsman and artist. These are but a few highlights.
In essence, both the catalogues provide a visual feast for anyone who loves Indian cinema. The explanatory text that accompanies the images, gives a context to them. It also presents vital information and trivia. These auction catalogues have helped increase awareness regarding the history of Indian cinema. This has also complemented other major platforms of Osian, such as the Library and Archives and the Osian's-Cinefan film festival, which aims to nurture a cinematic culture rather than just being content with a love for cinema. India still truly lacks a great cinematic culture, despite having so much passion for cinema.
It may not be possible for all Bollywood lovers to obtain and own such a vast collection of Bollywood memorabilia. Osian's auction catalogues which describe the collections that were up for auction, are quite relevant for a Bollywood enthusiast and collector. These catalogues provide a detailed glimpse into a rich treasure trove of pictures and informational nuggets about Bollywood. They constitute in themselves a rich compilation of Bollywood memorabilia.
The show goes on…
Today, we see that the market for India's film memorabilia has evolved considerably. However, it is a long journey ahead before we can call it a mature market. Osian's auctions have placed Bollywood memorabilia at par with modern and contemporary fine art and rare books. This in itself is a fait accompli. The show will go on!
Note to readers: Many items of interest are documented on www.osianama.com. Anyone interested in Bollywood memorabilia, film memorabilia and publicity material pertaining to Indian and World Cinemas can contact:
Ms Attreyee Roy Chowdhury
Senior Vice President-Communications
Osian's Group
Email: [email protected]
Tel: +91 22 6156 3108
OSIAN'S PUBLICATIONS:
[amazon_link asins='8181740270,1890206768,1890206512,1890206849,1890206709,8181740106′ template='ProductCarousel' store='bookedforlife-21′ marketplace='IN' link_id='041a02d5-41f0-11e8-a567-7bc78bf8b55d']