I'm sitting with a beautiful packaged Affirmation Card Box from Soul Palette, an online digital platform (www.soulpalette.in) focusing on self-care. As I read the varied mix of positive statements, affirmations and calls to action, it dawns on me, that self-care is something most women often neglect. In pursuit of one's passions, along with responsibilities, the self often takes a backseat. And this is exactly where a platform like Soul Palette helps. Right from curated content to self-care boxes, the brand has it all for millennial women hustlers. We chat with Aashi Sogani, Founder, to know more….
Soul Palette seems to be a one-stop place for millennial women hustlers. Right from content for them to read, to workshops and even self-care boxes, you've got it all. Tell us a bit about your brand story.
SOUL PALETTE is an online digital platform focussing on Self-Care (read: mind, body and soul) for millennial women hustlers. This platform is a help, a friend, a guide to become the best version of yourself. We at Soul Palette discover new ways of being and shed away the old ones, as we talk about stuff that matters and fill our lives with colours of happiness.  
Together, we are on a journey to create a life that is more enriching, meaningful and satisfying. With real life stories, thoughtful insights, practical tips and advice from experts, we are a melting pot for all things nourishing your mind, body and soul.
Also, we are first movers in the market who discovered the need for mindfulness and positivity; as post COVID-19 self-care and mental health.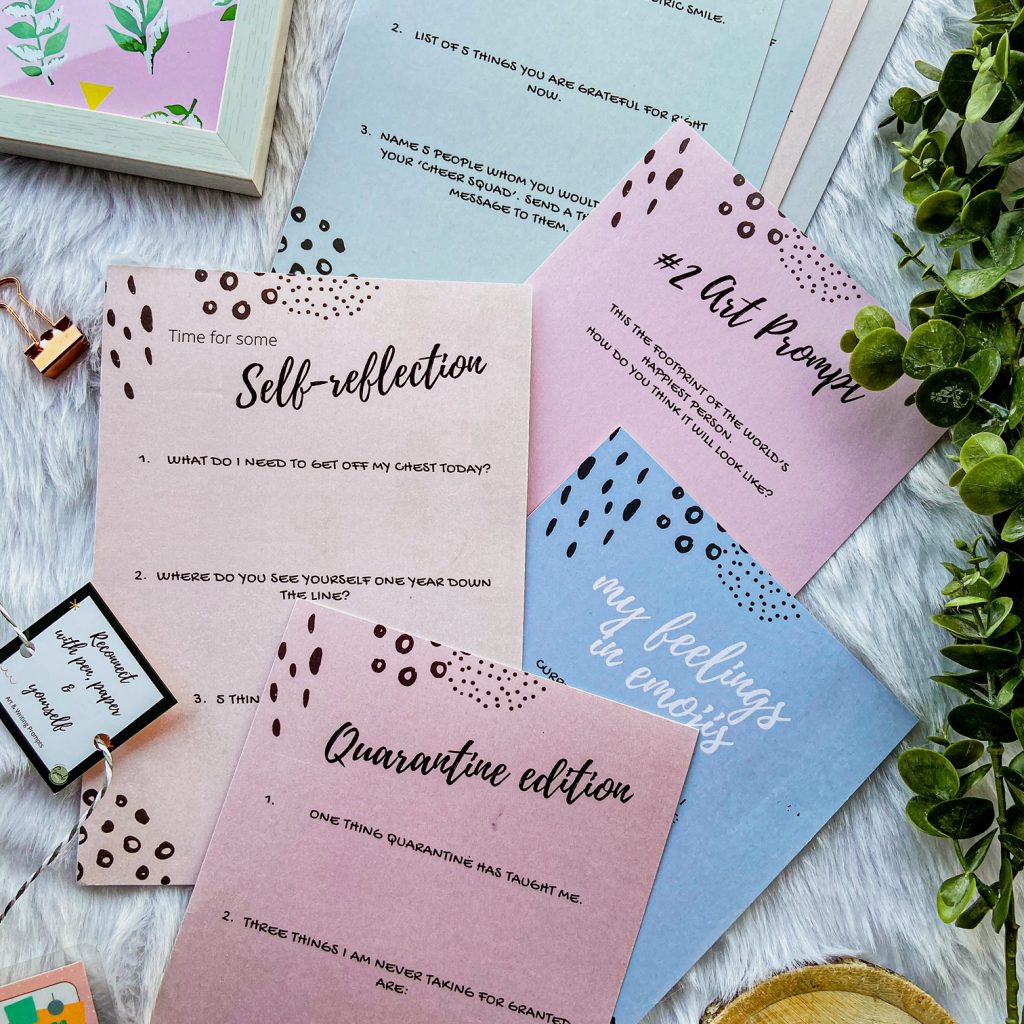 We love the soul palette affirmation card box! What is the ideal way of using these affirmations cards?
Soul Palette's affirmation cards can inspire a woman to live with more joy, grace, ease and strength!
The cards are curated with an idea to rewire a woman's brain with some positive statements so she can start believing in herself. Each set comes with a deck of 30 affirmation cards for 30 days of the month and a pretty little wooden stand.
Attached is a personal note with each box and make it all the more cute! It can be placed near bedside or on your work table to inspire you each time.
Tell us a bit about soul deck and soul reflection cards?
Soul worksheets are great bonus for women who wants to practice mindfulness and self-introspection. The sheets feel like a beautiful piece of stationery!
Set of 10 soul Searching worksheets aims to help you work 10 different areas of your life.
How does Soul Palette define mindfulness?
Becoming aware of what's around you, is all about mindfulness. Taking a moment to pause and appreciate the little things in life as you get caught up in the everyday hustle. Be kind to yourself, to those around you and your environment.
Taking care of yourself by putting yourself above everything else. Becoming more aware of your Physical, Social, Mental, Spiritual, Emotional quotient, that's how Soul Palette defines mindfulness.
What is the approach of millennial women to self-care, especially when compared to previous generations?
Women are working tirelessly at homes and offices, making all ends meet. They are the career girls, they are the family girls and most often, they are both at the same time. As compared to previous generations, at that moment of time, women had their voice but couldn't just raise it. Now they are busy, they are ambitious, they are kind and they want to make the world a better place, but most importantly, they want to take care of themselves, because 'you only live once'.
What tips would you like to give our readers who want to begin incorporating mindfulness in their daily lives.
I think, for as long as you are being kind to yourself and to those around you, each being on Earth can have their own version of 'self-care' and be unapologetic about it. Because, self-care isn't selfish.
Soul Palette, our online digital platform is a reminder to all those gorgeous souls out there that there is no one on the planet that you have to impress, not even yourself. So, let down your hair, smile and laugh as hard as you can. The same way you can't pour from an empty cup, you can't love others around you if you don't love yourself!
You have a range of products and offerings that tune in with your philosophy? Which ones would you recommend for readers who want to begin their journey towards incorporating mindfulness and self-care in their lives?
A woman can simply begin her self-care journey with our Soul Boxes. As, Soul boxes are self-care boxes, thoughtfully curated to help a woman live her each moment more deeply and reconnect with her soul.
Our box is full of, joyful activities and wellness goodies curated for a women's mind, body and soul! Each box is curated around an exciting monthly theme.
Self-Care Box (ingredients)
Focussed on a theme
Content to read: Some positive thoughts to reflect upon
Journal: Activity
A Meditation Card
Self-care Jars/ Cards
Feel-good goodies (teas, plant, stationery, skin care, cards, candles, scrunchies, chocolates and more)
Soul Palette is indeed food for the soul!