Designing your home library or book nook is a fun project that any book lover would like to indulge in. Here are some décor tips from Maulika Gandhi, Founder and Head Designer at Magnolia Design Studio. Located at Worli, Mumbai, Magnolia is a hub for beautiful eclectic statement furniture and home accessories.

What kind of storage system works best for storing and displaying books?
An open bookshelf is always great idea. You can play with the shapes, and it can be wall mounted or a cabinet from the floor. The idea is basically for the books to be easily seen to pick and read. Considering dust can be a bit of an issue in a few homes, a closed book case with a glass front also works!
What are the things to keep in mind while designing seating for a library area in the home/ or a book nook?
A very comfortable chair, an ottoman, a small coffee table, lamps and a few planters seem like ideal pieces to go in a reading nook. I'm a bookworm myself, so when I have a day to myself, I tend to spend quite some time in one place as the plot thickens! Having an ottoman to put my feet up is great and a small table for my endless mugs of tea seems just perfect. I would also highly recommend a table lamp or a floor lamp to add more warmth to the space. You can always add an interesting rug, throws and definitely some art on the wall to make the space more special and unique to you.
How can one use books as décor for the home?
Two words: Hardbound books. If you have a good collection of hard bound books, you could colour coordinate the same and stash them up, and add a lamp on top of it. You could do the same with your library! You can arrange the books according to colour and/or thickness of the book and voila, you are set to make a style statement!
We all have that one quote, in that one book that we really love. If you can, you could neatly cut off the page and get it beautifully framed for a nice start to your days.
Can you give us some tips on lighting in the library area?
The light shouldn't be too harsh for sure. Personally, I'm a huge fan of yellow light. So apart from the usual ceiling lamp, a few tall floor lamps or lamps that are propped up on a stack of books, near the chair, really add character to the space. It also makes reading throughout the day a breeze.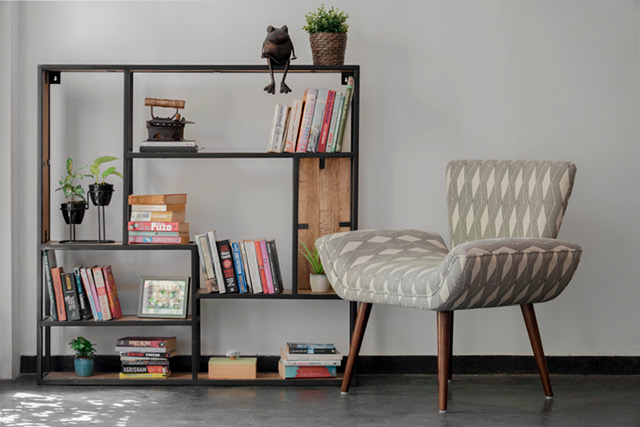 What other décor elements besides the obvious chair, desk and bookshelves do you think could add a spunk to the library area or book nook?
Some art on the wall, posters, framed postcards, photography or pages of your favourite books will help the space be more of a reflection of you. Apart from art, soft furnishings like a rug, throw and ceramic planters can add a lot of character to the space.

Every library will reflect the style of the homeowner. What would be the ideal "Magnolia" library style?
Magnolia's style is definitely eclectic. We believe our reading nook will be inspired by our travels and mix matching prints on the furniture and really playing on patterns. We in fact did a recent collaboration with Safomasi for a reading nook and we absolutely love how the pieces turned out!
We do hope that these tips have given you a headway as you go about the design of your home library! Happy reading!