A well-stocked home library needn't be relegated to the bookshelf alone! Books as décor are finding their way into many homes. Indeed, there is something warm and inviting about books in a home. Here is how you can use books as décor…
 Books on shelves- made to look good
Even if you have just a few books at home, dress them up with interesting bookends – they will turn your book collection into a good-looking artifact. Some people arrange the colorful spines of books in a pleasing manner. Some uniformly cover all the books. One can play around with shelf arrangements mixing horizontally and vertically kept books, interspersed with showpieces.
Seasonal décor
You like to welcome the new season and festivals with a touch of décor, don't you? Books on festive topics do look good when placed with other knick-knacks. For instance, placing Christmas books around the Christmas tree and so on.
The spillover effect
Release books from shackles of shelves! Display different books at key spots in the house. For instance, in the kitchen, display your range of cooking books. In the bedroom, display novels and so on.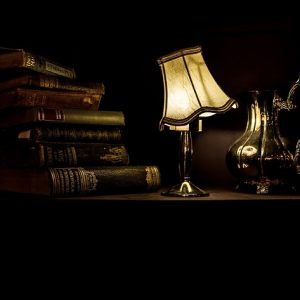 Stack 'em up
Stacks of books at varied places are an easy way of incorporating them into the décor. Use odd numbers for best visual effect. How about piling up books with a lamp or as steps or even using a collection of well-bound encyclopedias as mantel pieces? Place a stack on the bed side table and place a lamp over it. Or, stack them on the side table and place your photo frames on the pile. Stacks of books of varied heights are useful for creating different effects.
Coffee table books
This ever popular type of book is an age old way of decorating by using books. Leave it open or stack it up on the centre table. It allows guests to peek into your interests and is a great conversation starter!
Get personal
You can have a very personalized way of displaying books. Book lovers can get really creative! In this day and age of personalization, there are many ways you can design your own book corner. How about a bookshelf with names of famous authors inscribed on the sides? Or maybe a script in calligraphy on the bookshelf? Or, using books as a base of a lamp? Maybe, one could turn an entire wall with decoupage of comics! Ideas are limitless! Open up your mind and let them fly!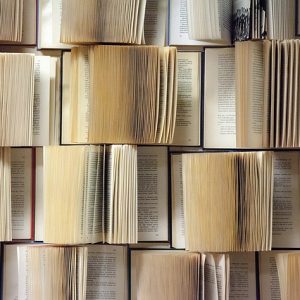 Book Sculptures
Books can be great raw materials for creating wonderful works of art. Once the book is converted into a sculpture you can't read it…but it is a way of using books as décor!
If you want a little more inspiration, do refer to the book, Novel Interiors, which is a beautiful guide to doing up your house with inspiration from classic works of literature!
So whether you are a crazy book lover or you just love the way they look, you can achieve a unique style for your house by using books for more than reading! How do you plan to use your books as décor?