In between mouthfuls of some delicious starters and sips of steaming coffee, a group of young and young at heart people are settled in a corner, doodling away to their heart's content.
The hip and happening Aka Bistro at Fort, just a stone's throw away from Mumbai's cultural heart, Kala Ghoda is hosting participants of an Ink Doodle workshop organized by the Bombay Drawing Room, an inclusive community of Artists & art-lovers, founded by a self-taught Artist & Architect, Snehal Patil.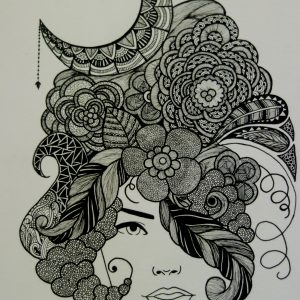 To me, this looks like a great way to spend a weekend evening. I chat with Shalvi Jhawar, a psychologist by profession, and an artist with Bombay Drawing Room, who is conducting the session. 
I notice that you first give the participants a sheet with small empty squares in which they draw some patterns. Is this a warm up?
The flow is that first we recreate basic patterns in these small squares on the practice sheets. Then, we move on to more intricate patterns. Following this, we provide a sheet with a basic shape and practice doodling in it. Finally, we take a final line drawing in which the participants apply all that they have learnt. So, towards the end of the workshop we have two artworks that they can take away.
What about those who don't have any prior experience in art?
Prior experience is not necessary, nor do the participants need to be from an art background. We start with basic lines and patterns. We completely understand that our participants may not necessarily have an art background but instead are art enthusiasts. Our worksheets start from lines, broken lines, checks and so on, progressing at each step.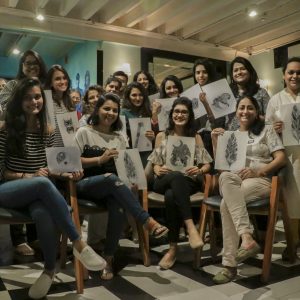 What kind of impact does this experience have on participants?
In our Doodle Ink workshops, people are really happy. This has no norms. You have a shape and what you will fill inside it is exactly what you feel. There are no rules here. For example, in acrylic painting you know that the sky is going to be blue. But here, there is no such thing. It's just how you feel. It allows you to express what you feel at a very subconscious level on paper.
What is the profile of the participants?
It's a good mix. We've had kids from six years on participate in the sessions! We have people from different backgrounds, ages and profiles. It's quite a mixed bunch.
Why do you choose to hold your workshops in restaurants?
It allows participants to socialize with a lot of people. There are no rules and no time restrictions. We keep a casual approach from the beginning!
How is doodling different from Zentangling?
Zentangle gets a little meditative. Doodling is also meditative but here you can feel free to draw anything. Zentangle is more about shapes, while doodling includes everything.
A parting thought….
Doodling is something that we all do in life. If you are sitting in office and getting bored you may doodle. We all have been doodling since school. We help to channelize this and give it a look that is aesthetically pleasing.
What Bookedforlife recommends: Well, the Ink doodle workshop is a great way to pass a few productive hours over a weekend. No better way to get your creative juices flowing! It could be an apt activity for gatherings and parties as well. It could also turn into a good bonding activity. Try participating with your child, partner, friend or parent!  
https://www.facebook.com/bombaydrawingroom/
Image credits: Priyamvada Sinha
Equipment
The Bombay Drawing Room does not insist on any special equipment or brand, and all materials are provided.
If you are keen to try doodling on your own, here are some of our finds, which could be helpful:
White carbon paper (It helps tracing outlines without leaving ugly marks on your sheet)
http://amzn.to/2w8mZ56
2. Doodling pens
http://amzn.to/2w6E13z