As children, all of us have indulged in colouring activities. Well, growing up and colouring books apparently did not go well together for many years, until recently when the market saw a surge in colouring books for adults. Suddenly a whole new world opened up. Adults found the therapeutic benefits of simple colour pencils and intricate drawings. Gods and Goddesses of India by Kanika Gupta adds to this exciting world of colouring books for adults.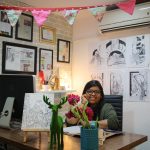 Bangalore based illustrator, Kanika Gupta, has explored a very novel idea in the genre of colouring books for adults. This eye-catching therapeutic colouring book – Gods and Goddesses of India, captures the essence of deities worshipped in Hindu mythology.
There is a beautiful rendition of an intricately designed deity on each page. A short text describing the universal role of that deity adds to the understanding and that makes this book one-of-a-kind. The book includes images of Shiva, Kali, Lakshmi, Saraswati, Brahma, Matsya, Kurma, Parashurma, Vaman and numerous other holy spirits.
Kanika Gupta's expertise in doodling and detailing simply adds on to its beauty. Rest assured, getting your hands on this creative piece won't just give you an insight into the oldest religion of the world, but the vibrant colours and mesmerizing patterns will help you connect with your divine self!
Bookedforlife indulges in some art therapy and a heartfelt conversation with Kanika Gupta….
The drawings in this book are extremely intricate and layered. Can you talk a bit about the process of conceptualizing the drawings?
Detailing is my addiction! I can't stop once I start drawing, so that's a style that I have developed. The process was tricky, as it's a little sensitive to go all imaginative with the Gods. I felt a little restricted at the same time. However, here there are no limitations as well. These Gods have 100 hands, 10 heads and so on, which makes drawing them a fun process! The process was first to shortlist the Gods, as there are so many and each is very interesting. I found shortlisting them the most challenging thing!
Hence, I took to a sequence, with Brahma, Vishnu and Mahesh. With Vishnu, I made the 'Dashavtar'. Along with these three Gods were the corresponding Goddesses. I ended with Hanuman as he is said to be immortal, sort of depicting that creativity doesn't die.
With a couple of references, I drew basic skeleton figures. Once stratified, the inking starts which gets tough to control. I had to tell myself stop the detailing and make it a little simpler for colouring!
There are many colouring books for adults available in the market. However, thematically your book is different in that it talks specifically about Hindu deities. What inspired the idea of a colouring book for adults on this theme?
I have always seen my mom write "Ram" as part of her meditation practice. This made me think: Why not do a colouring book on this theme? If you can write the Gods name, why can't you colour his forms?
You have included a little information about the deity on each page. What was the purpose behind this?
It's nice to know a little about what you colouring!
You have been conducting colouring workshops as well. We often assume, wrongly, that colouring is for children only. What kind of impact do colouring books for adults have on the individual?
They definitely heal a certain part in you. I run a colouring club on Sunday in a blissful park in Bangalore. people who come to colour there definately feel at ease and relaxed. You are so engrossed in making something beautiful , you are one pointed ..that is mediation
Can you share any feedback received for this book? Anything that was particularly touching?
It's sort of a compliment and a feedback- many have said the book is so pretty that we don't feel like colouring it and spoiling it! What touched me was that an old client of mine has ordered books for her mother who is 70+ and her friends, and they have been colouring diligently with all the details!
There has been a surge of colouring books for adults in the past few years. What according to you has made this trend popular?
I guess it's the need. Anything that destresses is popular as in today's world everyone is so stressed. A lot of people have been focusing on physical health which is good. But now, they do realize its time to give some attention to your mental health as well!
This colouring book for adults is Kanika Gupta's second colouring book. Well, it's never too late to experience the healing and creatively motivating effects of colouring.
Gods and Goddesses of India by Kanika Gupta
Published by Bloomsbury