Kavita Jhala established Kaffeinated Konversations when the book subscription box concept was relatively new to India. Books have been a saving grace, more so in times of social distancing. Well-curated book boxes have now become a part of the book lovers' lifestyle. BookedForLife 'konverses' with her to know more about the bookish delights packed in!
What is the USP of Kaffeinated Konversations?
Curation and Customization are the strong points of Kaffeinated Konversations Book Box. It is a challenge to provide this. But, being readers ourselves, we totally love this process.
It was lovely to receive a handwritten note with your book box. Is that a feature in all the boxes?
Yes, we write a note to every subscriber in every box. It is our way to personally connect to our readers.
It is heart-warming to know that you support local businesses in the products that you include in the book box. What kind of merchandise has been really well received by your readers? 
It is wonderful to support small and local businesses like ours. Merchandise items like tote bags, cushion covers, diaries, unusual bookmarks and similar stationary items are a big draw with our readers.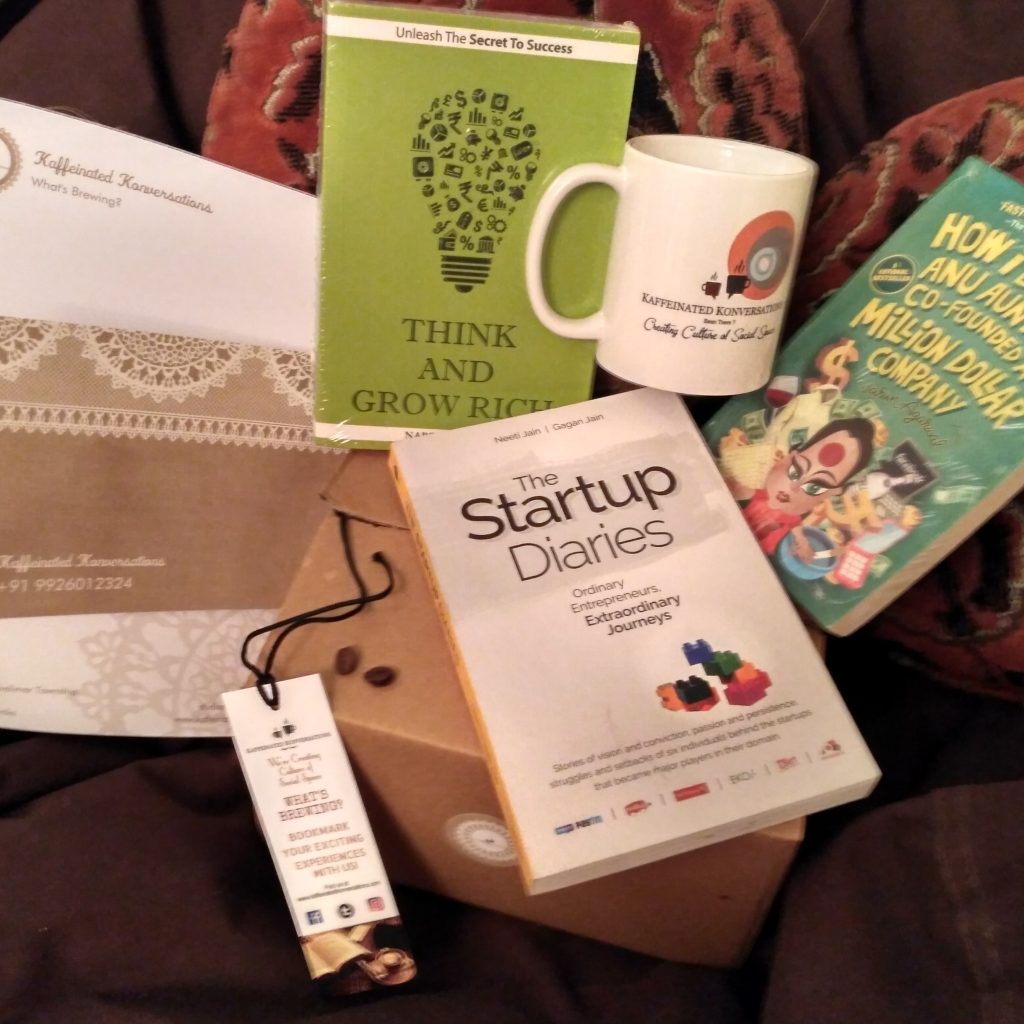 You have a variety of boxes on offer- Monthly themed book box, Surprise Book Box, Gift Book Set, Writer's Box and Totally Customized Book Box. Could you briefly tell us the highlights of each? And how can readers subscribe to the same?
Monthly themed book boxes are, as the name suggests, theme-based and available differently each month. Depending on the seasons, festivals or maybe some global event, we decide on the theme of the book box which has books and merchandise that's matched for a unified reading experience.
Surprise Book Box is our economy book box especially useful for readers who are students and want a book box experience. Here we include 'diversity of reading' by sending books of different genres.
Writer's Box was our limited edition but very much in demand box which has all essentials for any writer to be oriented towards their writing goals. It had merchandise and books which encouraged their passion for writing.
A Totally Customized Book Box is prepared on 'made to order'. Specific themes or genres are demanded by the reader and they even set aside a higher budget too. We try and work according to their requirements.
A Gift Book Box is basically any box which one wants to send as a gift to someone and has a personalized message from the sender. It could even be customized according to requirements or budget.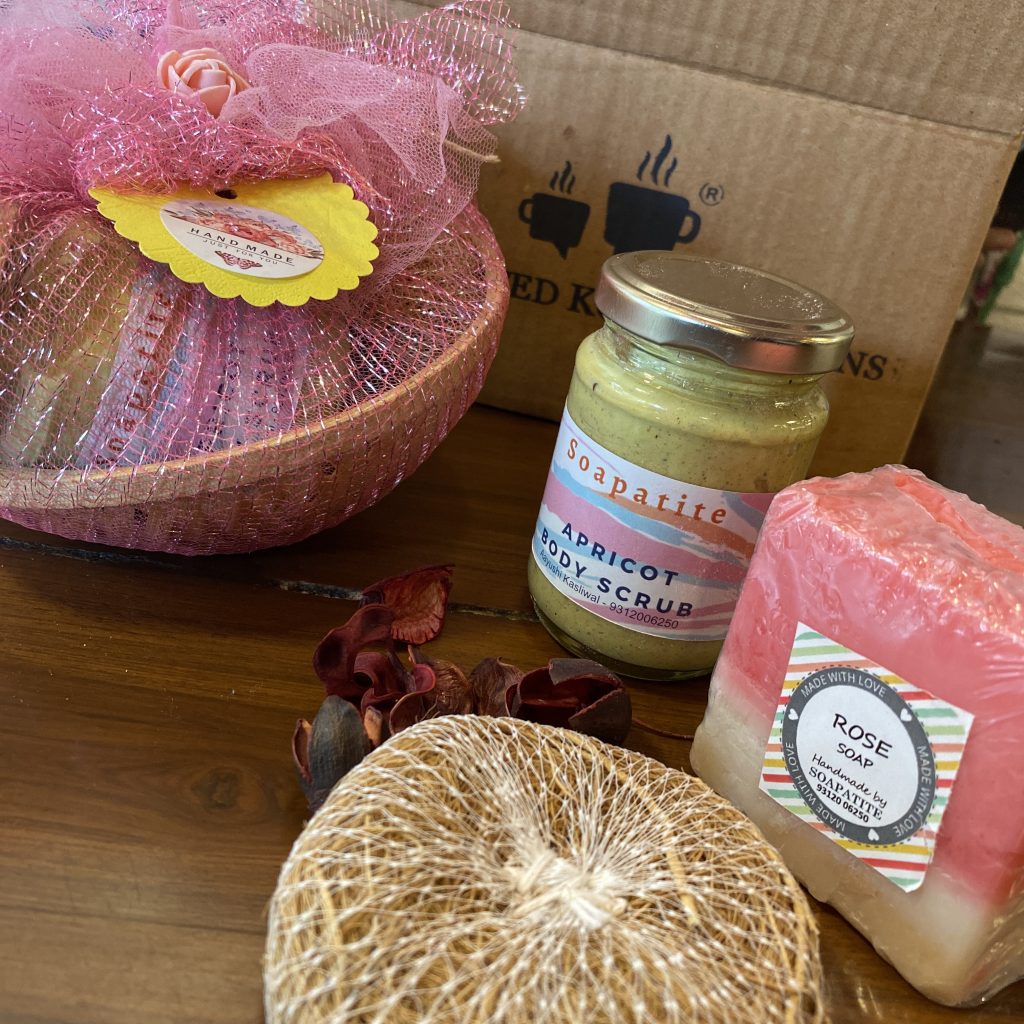 Let us in your process of curation. What is it that helps you curate and customize a box for readers who you may not know personally?
This is done by personally asking questions and getting an account of what the reader likes, their reading habits and preferences and their reading levels. This is another fun way of connecting with readers and knowing them better. What makes it all the more special is the fact that they implicitly trust us in curating well.
You mentioned that your focus is on authors from the Indian sub-continent particularly. You also look at African, South Asian and Middle-Eastern work. What is the reason for this?
When we were ideating on the book box concept, we noticed that no one put a spotlight on authors from India, particularly the attitude being that Indian writers write horribly. The trigger that propelled us to focus on Indian authors came in the form of us reading a horror book, Maya's New Husband by Neil D'Silva. We realized that a book with such a strong story was not known to people because of preconceived notions about horror writers in particular and Indian authors in general. We wanted to change that. Our first book box featured this book and readers over the period of time have started reading horror stories. In our 4 years journey, we noticed that not only Indian writers but also those of Africa, South Asia and Middle-East faced problems when promoting them as good work. Our book box therefore especially highlights them all.
What is it about a book box that attracts a reader? Today, books are accessible online and buying physical copies off the shelf or online is also quite accessible. What still makes a book box appealing?
We are readers first. While even we were enjoying the process of buying the books, we felt a need to make it a holistic experience as a reader. Drinking coffee from our favourite mug, while propping a pillow of our choice and then reading a book while the smell of the bookish fragrance from a candle transported us to another world – all these together fuelled our desire to put it into a box for readers. Another reason was the recommendations. People started asking for genre specific or theme specific books and that's why the need for the book box was also felt. These factors made the conceptualization of the book box appealing.
Kaffeinated Konversations started off first as a community and then the book boxes were introduced. What are your future plans for this group and where do you see the community in a few years from now?
In the Covid19 situation, we are re-routing our efforts online, on the community front. We are in the process of introducing myriad ways to engage with the readers online. Though our offline meets have always been a hit and loved well, with changing times new ways have to be devised. We are looking for better amalgamation of online and offline events for the community, especially the literature fests we have hosted in the past, to take a better form. Apart from this, we are also thinking of reading community centres/libraries to come into fruition.
So that's Kaffeinated Konversations for you. Have you yet 'bean' there done that?