The history of printing is fascinating indeed, and is perhaps as old as mankind itself. But, did you know that a very interesting and beautiful chapter in the journey of print closed down not very long ago? Chromolithographs were early coloured prints and the technology to print them started in Germany. Many of them found their way to Indian soil.
Bookedforlife takes a glimpse at some veritable pieces at 'Ephemera 2017', an ongoing exhibition at ARTISANS' gallery in South Mumbai's arty Kala Ghoda locality. The artefacts exhibited in the collection include a collection of affordable textile mill labels, and other chromolithographs for the first time collector.
These colourful chromolithographs are precursors of graphic design and mass communication, visualized in Britain, printed in Germany, and shipped to merchants in colonial India.
We uncover the stories behind them in conversation with Radhi Parekh, who runs the gallery and has put up the collection of chromolithographs. She recounts the fascinating tale of chromolithographs- how they were used by the British to lure Indian consumers to buy foreign cloth. They were thus, in a sense, precursors of modern advertising.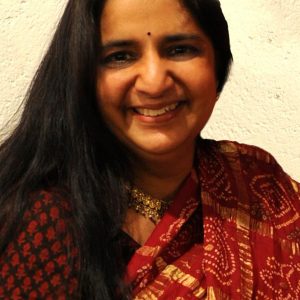 What is chromolithography?
Chromolithography is the first multi-colour printing technique. A coloured image is printed by many applications of lithographic limestones, a separate stone for each colour ink.
How old are the chromolithographs in the collection?
They all belong to the late 19th century, up to the 1920s and 30s. Later, offset printing was introduced.
What is the base of the artwork? Is it paper or fabric?
 It is paper. But, it's quite interesting you see. These were actually a part of the packaging that was used for cloth that the British exported to India. Thus, some of them are also called textile labels.
So, the initial aim of the chromolithographs was to attract customers for the exported fabrics?
 These chromolithographs aimed at "connecting" with the local people, that is Indians, who were the end consumers. They were trying to reach a colonial market. Ironically, they carried subliminal messages that reinforced our Indian identity.
The themes are mainly mythological or derive from Indian society of those times. Since they were made in Germany who were the target audience?
Yes, the themes of the chromolithographs are mythological and draw from Indian visuals. But if you look carefully there are signs that show it was drawn by European artists. For instance, look at the faces in the printed miniature paintings, they look European. The way Gujarati, Hindi and Arabic has been hand-lettered also reflects the fact that it was an outsider doing this.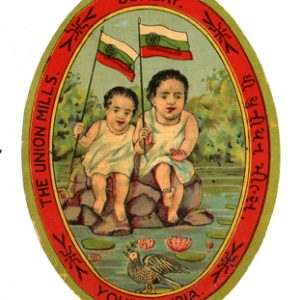 Have these been made in the traditional manner, that is, by using stone printing?
Yes. Lithography developed around 1796. These pieces were made using the lithographic techniques, based on the principle that oil and water do not mix. A separate stone plate was used for each colour.
Some of the works on display are Raja Ravi Verma prints? 
He began by printing his art work in Germany. In fact, his prints were one of the very first mass reproductions of art!
How come most of these have survived? 
 A lot of them have survived because they had images of gods and goddesses on them, and were preserved in personal puja rooms.
Where does the art stand today? 
As a form of printing, it has completely died out. However, artists and printmakers do use it for special limited editions prints as well as an artistic medium.
You are a chromolithograph collector. Any tips for someone who is investing in chromolithographs for the first time?
 My advice would be
Buy it only if you love the piece and can connect with it.
The condition of the piece is very important. Do pay heed to that.
Examples of early chromolithographs are rare. Do look out for subtleties in colour and multiple layers.
Small pieces are pocket-friendly and a wonderful to start a collection with.
What magic do these chromolithographs hold for you?
I have a background in illustration, graphic design and publishing. I felt that these somehow took me to the roots of my profession. Moreover, my grandfather was one of the early pioneers in the textile industry. Hence, I am drawn to chromolithograph textile mill labels. I am indeed fascinated by these historical artifacts of printing, graphic design and typography.
Chromolithographs have had an interesting journey in history. Today, they are works of art that have captured in their folds a glorious era of print!
Note: The exhibition of chromolithographs is on till 30 May 2017 at ARTISANS', 52 – 56 V B Gandhi Marg, Rhythm House Lane, Kala Ghoda, Mumbai 400 001.