Santosh Das, renowned artist who is known for creating magic with the Mithila painting style, looks every bit the quintessential artist, as he sits in a contemplative mode at ARTISANS, the culture hub tucked away in the beautiful by-lanes of Kala Ghoda.
A white long flowing beard and an air of peace around him strike any visitor. He is sitting amidst Mithila paintings hung up on the walls around him, and copies of his latest book, Black – An Artist's Tribute.  Published by Tara Books, this is an illustrated handmade book in a limited edition of 1000 copies only. In a short while, he will be conducting a workshop on Mithila painting for an urban audience.
We start talking about the book, but not before we touch upon the wondrous world of Mithila painting, which occupies a central place in the book- and in his life.  
Mithila Painting
Das works in the traditional Mithila painting style from Madhubani, Bihar, where he was born. Mithila painting, also called Madhubani painting is a well-known form of folk art. The roots of this art are deep, and skills continue to be passed through generations. Since time immemorial, women in his community have used natural pigments to decorate the walls and floors of their homes for special occasions like birth, marriage, and religious festivals. Precise geometry and detail depict ancient epics, folktales, and religious scenes along with the stuff of daily life.
 Why black
Das's mother used the black colour from the night lamp and expressed her skills with this 'handmade' colour. "Black means a lot of things to me. Anything one draws is black. Even if I draw an image with a pencil, it is also a form of black. Black also has a spiritual significance. It shows a certain kind of steadiness and determination. This quality of the colour black inspired me to focus on it. I have been working with this colour for 40 years, a very long time!" he asserts.
"The rightful place for an artist, his real world, is a pot of black ink. I believe it contains all the magic, all the forms, everything that human beings can imagine and render. It hides inside itself the seeds of creation" he adds.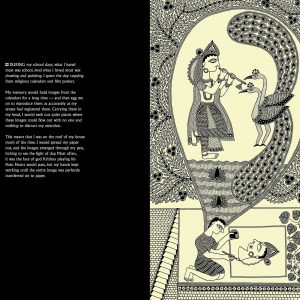 Mithila Painting: Stepping into the future
Today artists like Das are bringing traditional arts in the contemporary context. "This transition is very difficult, but it allows you to see things in a different perspective. There are challenges but it ensures that you make efforts to make a traditional language very relatable. Once you know the essence of a traditional language, you will realize that you can indeed use it to express something different".
What Das does moan however, is the fact that very few artists today choose to evolve. They learn and apply traditional work, and thereby may churn out numerous pieces that sell well. But, he sees the role of an artist as something higher. After initial training, he feels that one needs to do different things as an apprentice with a master. This would prevent stagnation. Every art needs a catalyst.
What makes Das' work so fascinating is that he follows strict aesthetic traditions while responding to current local, national, and global issues. His work on the Gujarat riots was very well received.
Black: The Book
The idea of the book took birth in Chennai at a workshop. "Black" is an autobiographical story. It focuses on the journey of Santosh Das: his becoming an artist and his relationship with his many muses, particularly his mother.
Published by Tara Books, the limited edition copy is numbered and screen-printed on recycled paper, then hand-bound into a work of art itself.
Inside its pages lie the simple story of Das's childhood and his myriad inspiration. The prose is simple but poignant. The illustrations, which are Mithila paintings are all in black. Together they make for a conceptually rich reflection on an artist's relationship between the real world, imagination, and storytelling through art.
As mentioned before, the title "Black" references the colour his mother painted with, which was made of the soot that collected on a night lamp. His fascination for black makes him explore the different shades of black. This makes the black of morning different from the black of night and the black of dust different from that of the sky. "Black has a lot of shades, once you get to know its potentiality, you can explore further" explains Das.
Who is the ideal reader for the book? "Maybe those who are related to art, maybe writers, students…" he muses. However, moments later, he smiles and says, "Everyone". It is true. It is a book for all those who love and admire the beauty of art and words.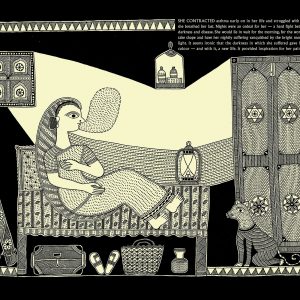 A piece or art or a book?
Boundaries become blurred. Art and publishing combine. It is a mélange of two beautiful worlds. The publishers of this book, Tara Books are known for their hand-made visual books. The aspect of touch and feel, of tactility and graphic assume importance here. Of course, unusual paper and brilliant design are the perfect accompaniments here!
This book brings folk art to an urban audience, thereby creating awareness of the art and also providing an object of beauty. However, there is something more happening here. It is merging the world of art and book publishing.
"It is a good means of promoting rural art which is high potential in terms of artistic merit. Through a book, art can reach out to a larger audience. Such an endeavor is highly appreciable. It is a good way of promoting art from different districts. It is only then that you can know the diversity of India's heritage. It is a good way to take it forward," says Das.
Black – An Artist's Tribute by Santosh Kumar Das
Published by Tara Books.
Available also at ARTISANS, https://www.facebook.com/artisans.centre.9/
Original works by Santosh Ji are available at ARTISANS', Contact  coordinator@artisanscentre.com