India is a land of contrasts and contradictions. How can one then define what is "Indian"? If one looks closely, we can indeed define ourselves through simple objects. Or maybe, simple day to day objects can define us Indians! This is exactly what Jahnvi Lakhota Nandan has done in her picture book Pukka Indian: 100 Objects that Define India. The book was released at ARTISANS Gallery at Kala Ghoda in Mumbai, and has been critically appreciated for an honest view of the country and our identity as Indians, through the lens of product design.
Pukka Indian takes 100 objects that we could associate with India, or rather objects that define India. The book presents aesthetically shot images of the object followed by a comprehensive history of the role of the object and its significance in the Indian context.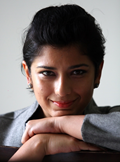 Bookedforlife chats with the author to unravel the inspirations and travails of the journey of writing "Pukka Indian".
Coming up with objects that in some way define our identity is a colossal task, which you have accomplished quite well! What inspired the idea in the first place?
I went to a product design school. I think it was natural for me to question objects of daily use. Objects used every day like the bangle, bindi, pressure cooker, sari blouse, dupatta tandoor, etc., all put a long tradition of design of household objects, at the core of everyday life in the country. Objects like Kalnirnay calendar, bahi-khata for bookkeeping, mandira, a tool used to churn milk into butter, reflect uniquely Indian habits like churning and calculating, gestures I became acutely aware of while studying architecture design at the School of Art and Design at Tsukuba, Japan. Here I realised that few contemporary cultures have as close a relationship with objects that were designed 5000-7000 years ago as India does. Kitchen tools like the tava, the oldest of utensils in India used to roast the country's staple diet, are a testament to this long and uninterrupted use of objects. Design thus became the chain linking the last two decades of my life; the chain that propelled me to this architecture school and that brought me to Paris to design with the most elusive of all materials – smell, that in India finds expression through incense.
What were the challenges you faced in the actual research process?
The process of research was very extensive. I went through archives, documents, and interviews not just with designers but also with writers of fiction who have used these objects in their books.
You have given special attention to the kitchen and the objects within it. What is it about the Indian kitchen and its evolution that you find fascinating?
Yes. Definitely, the decorative aspects, particularly surface embellishment plays a historic role in Indian design. Its origins go back to design of utensils for the gods. It is also reflected in the design of kitchen tools where traditionally kitchen utensils were used to cook as well as serve. They were used in temples as well as homes. Ancient utensils used during rituals gave rise to utensils for daily use. Some, like the deep rimmed patila for boiling milk exist from the later Vedic period and was used both in temples and in homes for the same purpose. This combination of the sacred and the profane is what makes it unique. Their design combined both decorative and utilitarian elements. This is the reason why they have multiple tasks of cooking, storing and serving. Indian designs have constantly involved and have included sophisticated technologies. Even during the Harappan period the simple kitchen tools such as the skillet and the tong for making rotis was an extremely ingenious and innovative response to the conditions around. If you take a simple thing such as the box for chapatis it is fascinating to note how over thousands of years its material has evolved from terracotta to metal and now it is available in various polymers.
You have a fine balance of old objects that have existed for centuries with newer objects. Can you name a couple of modern objects whose design is timeless and would definitely stay very relevant in the distant future?
This is what cultures like India and for that matter all traditional cultures including Scandinavian cultures teach us. We don't need to choose between the old and the new, because tradition is still current, and current defines the future. Cultures like ours are unbroken. This thread of continuity is expressed in design too.
Pukka Indian is a great source of information on how common everyday object design has shaped our lives in deep ways. In your opinion, what should the reader take away from the book?
Indian design is constantly evolving. Having stood the test of time is just one of its unique aspects. Its success is due to the fact that it is flexible and inclusive. Indian design often includes all the senses including taste and touch and this is one of the unique characteristics.
Pukka Indian: 100 Objects that Define India is an interesting coffee table book that makes the reader see common objects in a new light. The delightful pictures and the accompanying text paints a picture of the journey of Indian design and how our lives are so intimately connected with these everyday objects.
Title: Pukka Indian: 100 Objects that Define India
Author: Jahnvi Lakhota Nandan
Publisher: Roli Books