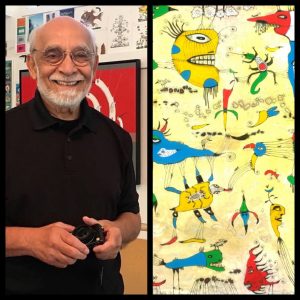 It is sometimes refreshing to look at art and not really try to derive a hidden meaning behind the artwork. It is soothing to view a painting and appreciate it for its beauty. That's exactly what Haren Vakil's work does to the viewer- evoke a sense of wonder, awe and amusement. Haren is sitting in the midst of his artworks currently on view at the ARTISANS gallery at Kala Ghoda. "I don't have any statement to make, socially or politically. For me, painting is a visual and delightful art… amusing and sometimes crazy!" says the Canadian artist.
 Before we sit down to chat, I take time to admire and take in the essence of his very unique works. His paintings are rooted in the surreal. You will see fascinating creatures and vivid juxtapositions all coexisting in complete harmony. He is deeply influenced by Jazz and hence music and musical motifs also find expression on his vibrant canvas.
 On closer look you will notice the exceptional detailing in each work. "That could be a result of my training in architecture," he says, "I am looking for good composition and structure. When I see empty spaces or gaps I tend to fill them!". I am secretly glad he does that, because the works are so detailed that each consecutive time you look at his paintings, you are sure to discover a new element!
Architecture is a visual art as well and one can see its impact on his work, especially the earlier ones, where each painting is structured. "Earlier I almost designed my painting. I used to have grids drawn. My later works are freer," he says. Most of his works start from doodles and develop into full-fledged narratives organically. He has recently started working with a synthetic paper called Yupo. "It is quite smooth and doesn't bend or warp. It is a good base for my work, especially when you work with ink. Many a time the water and the colours merge and form the background onto which I add,"he states.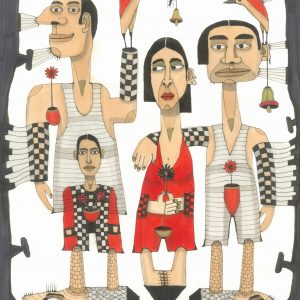 While Haren Vakil has set base in Canada for the past four decades, his ties with Mumbai run deep. He was born here and completed his undergraduate studies in the city before setting out to pursue and practice architecture. He still visits the city every couple of years, and like every true Bombayite he notices the difference between the Bombay of yesteryears and the Mumbai of today. "Bombay was one third the size of what it is today. It was also less polluted!" he remarks. But, he still adores the spirit of the city, especially the varied contrasts that somehow gel with his unique aesthetic. "You see the most bizarre juxtapositions in Mumbai. It is wonderful! I am fascinated by the detailing. The hawkers on the footpath…how they organize their wares in a small space. I love the calendar art here which is unfortunately dying out," he reminiscences. He applauds the art scene though, especially in the bustling hub of Kala Ghoda.  
As I prepare to leave, the works beckon once more. It is perhaps their inherent nature that shows you a different detail each time, just enticing you to linger on a bit more. Each work is akin to a detailed miniature world in itself. I can well imagine Haren Vakil sitting in his art studio that he has built behind his house, painting away, to create this beautiful concoction!
Note to readers:
 Join ARTISANS for a walkthrough with Haren Vakil on Art Night Thursday, 10th January at 7pm
 Weird and Whimsical: Works on Paper by Haren Vakil can be viewed till Sunday 13th January 2019 at ARTISANS' Kala Ghoda.