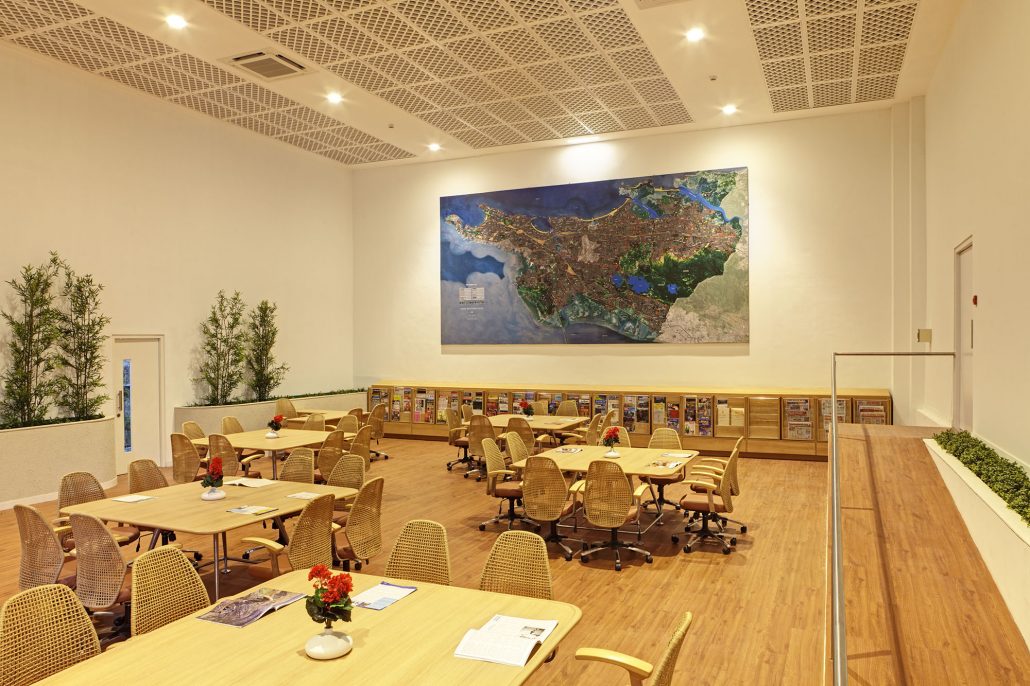 Not long ago, I chanced upon the library of the future. It is not very often that one enters a library and does not see racks and stacks of books. Instead, quite akin to a posh lounge, there is comfortable communal ergonomic seating arrangement, carrels, private desks with computer terminals, artificial plants and trees to add a dash of greenery and a huge map of the open spaces of Mumbai, on the wall.
Located on the first floor of the Discovery of India building at Worli, the Nehru Centre Library, is a place one may gently stumble upon, and never want to leave again!
Designed by eminent architect I.M. Kadri, the library and reading room provide a comfortable and welcoming ambience to the reader. Out of the sight of a visitor but very easily accessible is the other larger section of the library which houses the entire rich and diverse collection of materials. The majority of the collections are in English, but there is an enviable list of titles in Hindi, Marathi, Gujarati and Sanskrit. The collections adhere to a diverse mix of subject areas including classical literature, fiction, art, Chinese painting, science, architecture and so on. In fact, the collection boasts of a select number of books on almost every subject. In decor and spirit, the library exudes the aura of a space that belongs to the digital age.
Bookedforlife converses with Arati Desai, Head Librarian and Documentation Officer, to know more:
How do you see the role of the modern librarian?
It is very important because librarians today are facing a great challenge. Today we have people saying that libraries don't have footfalls, people have stopped reading etc. So there is a great challenge. If a librarian doesn't feel challenged, he is mistaken.
Can you talk about the monthly informal book club sessions held at the Nehru Centre Library?
The idea behind it was to provide a form of literary activity to promote reading. As a part of the library's services and to reach out to the community we conduct these literary activities. It could be a discussion on a particular book, a conversation with an author or a talk on any literary topic. Our options are endless and we don't limit ourselves to any particular theme. We could have a book that has been recently published and received good reviews, or we have a book launch or an author interaction.
The idea is to have a variety of events, all based on literature. Over the years, since a decade in fact, we have had at least one literary event every month. We have a database of about 1000 readers on our mailing list and, over the years, we have reached out to a diverse group of people who have evinced interest in the events. The book club is informal. It is free for all. Interested people have to register their attendance. We do, however, insist that people should register for the event only if they plan to attend.
Only those people who are really interested in the subject attend, and they go back really enriched. In the recent past, we have organized talks on Amrita Pritam, Munshi Premchand and Jane Austen.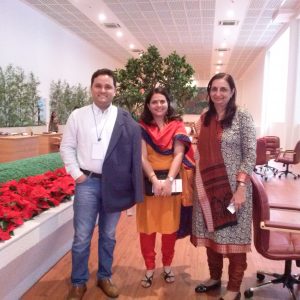 Just for your information, apart from the book club, we also organize meet-the-author workshops for kids wherein those children's authors living in Mumbai can present their book to children, read from it, and also conduct interesting activities based on it. In the past, we have hosted, among others, some famous children's authors like Katie Bagli, Deepak Dalal and others.
You have a wonderfully accessible online catalogue…
Our library is a hybrid library. We have a traditional collection of books as well as a digital database of information resources. We have a digital catalogue which is an open source catalogue. This means, a reader can access the online catalogue from any part of the world and search it for his/her subject of interest.
Options to search by are author, title, subject and series. An 'Advanced Search' option also helps the reader look for any specific information. In addition to books we have listed all the other information resources such as DVDs, maps, magazine and journal articles listed in a keyword thesaurus, art catalogues, comic strips, board books for little children, archival audio recordings of lectures held at Nehru Centre and so on. The home page of the OPAC has some interesting features. Front covers of new arrivals, some useful links to other libraries and a fast link to the Amazon Books page when you click on a book cover are some of these features. We subscribe to about 200 plus journals and 12 newspapers. These are scanned everyday for articles of probable interest, after which the article is indexed in a specially devised alpha-numeric index.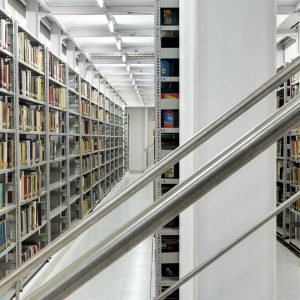 At present, we have about 2,50,000 magazine and newspaper articles in 200+ subjects which will be soon made available to the reader in soft copy. Of course, the reader will only be able to see the metadata on his subject of interest and full articles will only be available in the library.
You plan to install Kindle stations in the library. Could you elaborate on that?
As a futuristic and innovative infrastructure plan, we already have an online catalogue, digital services and a beautifully landscaped reading room. We started thinking about what more could we add. Since most people like to read on portable devices these days, we thought we should also 'keep up with the Jonases', as they say!
We thought of taking an Amazon Kindle subscription to about a million books in which we provide readers with Kindle stations, that is, fixed Kindle devices and give them an opportunity to read books of their choice from a huge selection. Of course, this is still in the planning stage. Hopefully, we should be able to implement it soon.
What is your vision for the evolution of the library?
Collection-wise, the library is 30 years old. But, space-wise it's relatively new. We moved into this new space about 4 years back on Children's Day. Since then the idea has been to increase footfalls and get the community, the neighbourhood, more students, more academicians and scholars, more people involved. This has happened. We are more visible now, and people just love the reading room! We have had all types of positive responses!
People tell us that the reading room looks like an airport lounge or a five-star hotel foyer! Anything but a library's reading room!
Now, we want this to grow. We want to reach out to more people. Like libraries in the west, we don't want to have any rules. You may have noticed that we don't have any board saying "Silence please"! We allow readers to get in their portable devices.  As long as they don't disturb others around them, it's ok! Although we provide internet wired connections for a nominal charge, we plan to go wireless soon. For scholars and researchers, we have provided special carrels. A scholar working on thesis, a researcher researching a topic, a writer working on his/her new book – all can use these for their work. They only need to write to the librarian explaining the nature of their research or writing and its duration after which a carrel is allotted to them. It has been our pleasure to have some eminent scholars/writers work on their thesis/research at the Nehru Centre Library and we are happy to say that they have gone back completely satisfied with the facilities that were offered to them. We want more writers, scholars and researchers to also come in.
Your reading room is beautiful indeed! What kinds of reactions have you got from visitors?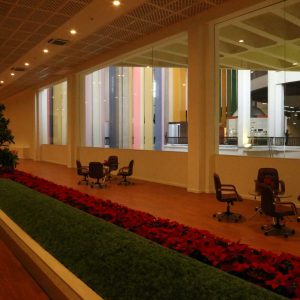 We have had very interesting reactions from different kinds of people. We are a public library. This means that we do not limit people based on age, academic or economic background etc. Thus, we get kids right from 2 year olds to senior citizens who are over 80! We like to attend to and interact with all of them and address their specific requirements. The library staff tries to understand the needs of each and every reader, which is unique and reader-specific and challenging. We show all first-time visitors to the library and give them a detailed orientation about our services. Our aim is that the reader should come back again.
A senior citizen from Bandra who is an avid reader and was looking for a good library where she could read a book, a magazine or a newspaper in comfort had this to say. The minute she entered she exclaimed, "Wow! Can I live here?" I will always cherish this reaction. We have a beautifully curated collection. We go through each and every book that comes to us from our vendors and select it to be added only if it is going to add some value to the collection. To further explain how curated our collection us, we had another reader who spent a long time going through the books on the shelves. When he was done, he came out and told us that he felt depressed! On being asked the reason for feeling so, he replied, "It will take me a lifetime to read this wonderful collection!"
When people come in they ask us, "Are you sure this is a library?" This space is indeed unique as it is landscaped beautifully, the lighting is comfortable, there is air conditioning and the furniture is ergonomic. Thus, we keep getting these heartening reactions as new readers keep visiting us!
Do you believe that the physical book as we know it will die a slow but sure death?
Not at all! The digital infrastructure is supplementary to the print. Print will never die. As you know, even Amazon has opened physical bookstores a few years ago! Everything comes full circle.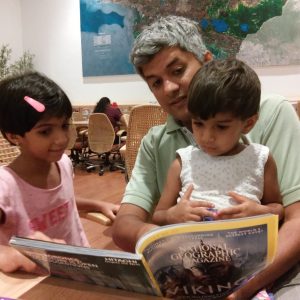 Some years ago, we saw people veering away from the printed word. But there are instances where we have seen families coming closer because of books. In our 'Let's Read Together' initiative which is held in entire month of May every year, we invite parents to bring their children's own books and read to the children in the library. They can even bring along their children's friends with them. We've had instances where the mother or the father, even grandparents, read out to the child or the child's friends. We have seen parents motivating their children to read in different ways. Sometimes they read to them. At other times, they pick up a book of their choice and read. The child observes the parent reading and picks up a children's book from our collection and reads too. So digital can be supplementary and can only act as an add-on to one's love for reading. I do agree that a digital device has advantages of portability. Yet, it cannot ever replace the physical book!
The swanky and peppy place defies the 'old-school' conception of a library as a silent place where one can read books in isolation. With its enviable collection and great infrastructure, the Nehru Centre Library is the modern hub of knowledge where access to information is provided free of cost (being a community library) even while offering the best of digital facilities. Yes, reading has become fashionable once again…and the library is a 'cool' place to be!