A thriller for young adults, mixed with a historical side of Bombay…Clues in the city's architecture, tied to a deeply buried secret from the past- a secret for which one can kill. Not once, but many times over. What Maya Saw by Shabnam Minwalla is an exciting thriller for young adults. The tale promises to keep the reader on the edge!
The protagonist, Maya, is an intelligent 'geek' who joins a summer school course on the history of Bombay at the renowned St. Paul's College, which is a fictional version of St. Xavier's College, Mumbai.
The setting of St. Paul's College with its gothic architecture and centuries old building seems perfect for the story that plays out. Maya discovers that she has a strange gift- she can actually see people known as 'shadows' who seem to be hell-bent on obtaining a secret that has been preserved for years. This 'secret' has to be protected from the evil shadows, who will do anything to get it.
Can Maya fight the shadows and outwit them? The journey is filled with danger. She has to enlist the support of friends. But, who can she trust and who should she be wary of? And, all along she needs to solve strange clues that lead her to the history of Bombay itself.
The story moves fast keeping the reader guessing and eager. The satirical humour used in the book will certainly appeal to young adults. This thriller for young adults is a sure page turner! Minwalla is known for her teen mystery stories with a hint of the supernatural.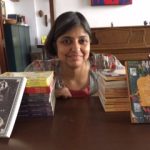 Bookedforlife chats with author Shabnam Minwalla to reveal a bit more about the book…
There are a lot of facts about Bombay presented in the book. What kind of research did you do for the same? 
For ten years I was a journalist with the Times of India, and covered city news. During those years I crisscrossed the city and saw little details- statues, trees, buildings, streets, and heard stories that stayed with me.
When I started writing What Maya Saw, I was clear that I wanted to incorporate a clue hunt through the city. So I read a few books on local history and made a long, long, long list of possible clues. Sadly, very few of these clues made it to the book. Also, as the past is a very important element in this story, I looked at lots of old photographs and read old newspapers to get a feeling for the city that once was.
The setting for the story is St. Xavier's College, your alma mater…what made you zero down on this institute? 
In 2009, St Xavier's approached me and asked me to write the text for a coffee table book on the college. So I was lucky enough to go back to Xavier's and see it through fresh eyes. I spent hours and hours in the glorious, golden library doing research for the book. One afternoon, I was almost alone in the library, when I looked up and thought I saw a girl with horns coming out of her head.
It was a trick of light. But for years I wondered, what if it had really been a girl with horns coming out of her head? What Maya Saw began with that moment — and that question.
What is your next project? 
I have written a hOle Book for Duckbill, my third book for them, about a friendship across a wall. Jiya lives in one of those gated communities in Parel. Urmila lives in a basti on the other side of the gate. One day the girls meet and join hands to battle a common enemy. And, they realise that they quite like each other.
I am also writing a three-part middle school series featuring a girl named Nimmi Daruwala. The books tackle all the inevitable issues — best friends who turn mean, nasty teachers, fitting in, not fitting in…After that, I want to write a horror book!
Well, that's a heady mix for sure! But for now, we're sure readers will cherish this delightful thriller for young adults – What Maya Saw.
[amazon_link asins='9352774698′ template='ProductCarousel' store='bookedforlife-21′ marketplace='IN' link_id='31aac69d-25d4-11e8-8f15-ab81335081ec']
Title: What Maya Saw
Author: Shabnam Minwalla
Publisher: HarperCollins Children's Books, 2017
Genre: Young adult/ Suspense
Age group: 13 onwards
Kindle version: