The world of Vintage & Classic Automobiles is an intriguing one. Dedicated and passionate collectors converged at the Osian's - Connoisseurs of Art inaugural Live Vintage & Classic Automobiles Auction in New Delhi in February 2019. 
In a chat with Neville Tuli, Chairman – Osian's Group, Bookedforlife uncovers the story of a slice of India's automotive heritage and movement…
How was the response to Osian's Group exhibition and auction earlier this year? Which are the vehicles that you believe are a favourite with enthusiasts?
The auction was a landmark event helping to spearhead India's growing Automotive Heritage Movement, with thirty-eight top quality Vintage & Classic Cars from the great marques of Cadillac, Rolls-Royce, Daimler, Bentley, Jaguar, Chevrolet, Mercedes-Benz, DeSoto, Wolseley, Dodge, Austin, Riley, Ford, Fiat, Rover and Volvo consigned by many of India's top Collectors.
Several cars had very impressive provenance, cars from the princely states of India, or cars that have been owned by famous personalities. For example, the freshly restored and award-winning car – a 1933 Rolls-Royce 20/25 HP – was the top seller at the auction fetching a Hammer Price of INR 1.50 Crores; this Rolls-Royce was once owned by Viscount Southwood and the owner of Glenlivet – John Martin.
Even though certain lots did not sell as expected, the magnificent Auction Catalogue- already a collector's item, the Opening Preview, Exhibition and the final auction with a full house teeming with art collectors and historic vehicle enthusiasts indicated that this auction will prove to be a game changer for the Historic Vehicles market that is still in its infant cash economy-dominated stage, hence stunting its potential, and in the process creating the negative attitudes associated with a cash economy market. Destroying this and replacing it with a more transparent, vibrant market, which is respectful of the automotive history and international conservation traditions is the driving need. It will take another two to three auctions to embed this deep-seated transformation.
While the actual vintage cars are one aspect, could you throw light on the market for automobile memorabilia in India?
All facets of popular culture fascinate India, especially the world related to Transportation and Travel. The Osian's Group brought in Paris-based Gautam Sen, one of the world's leading transportation and automotive experts, to head its Transportation, Travel and Tourism Auction House Division. The newly set up division, which was inaugurated formally along with India's First Vintage, Classic & Racing Automobilia Auction in Mumbai on 26th October 2018, will be India's first such Division.
The objective has been to introduce India to various automotive 'cultural treasures' such as automotive art, artefacts, mascots, rare toy model cars, vintage advertisements, catalogues & brochures, rare film posters which privilege the automobile, and related transportation memorabilia to the enthusiasts and connoisseurs of India.
This was indeed a unique and pioneering initiative which has been three years in the planning. Osian's curated one of the most extensive, yet exclusive collection of artefacts pertaining to the world of historic vehicles, which was put on display for one week before being put under the hammer. We believe that the interest and investment in historic vehicles and artefacts in India will soon match those with the most important internationally. This subject is critical for the historical and educational eco-system to develop. No economy can sustain growth grow with an intellectual vacuum and below-par understanding of its heritage.
Do you feel that moves by government to curb black money and regularise dealings have had a positive impact on the credibility of the industry?
Changing the black economy mindset is a vast and difficult task. Unless you replace what you destroy with a better structure it will back fire in the short run. However, with another five-year mandate we will get a deeper chance to see the success or not of the demonetisation process in daily attitudes. Any approach requires sustaining, planning and a holistic policy which encourages and nurtures all facets of the market. If any gap stays, a hole can affect all else. Many are working towards the change, and with more cooperation and long term thinking I am sure it will succeed.
However, the existing black economy mafia which prefers to keep the market hidden so that important historical vehicles can be bought cheaply from distressed old families facing liquidity crunch will be destroyed. The Auction path is critical to that. Over the past twenty years Osian's has succeeded in transforming the black markets for the Indian fine and popular arts, film memorabilia, rare antiquarian books, prints and photographs and crafts, all once rooted in the cash economy mindset, which are today significantly more transparent, intellectually more vibrant and inclusive, hence capable of playing a deeper role in the development of India's cultural infrastructure. Yet one auction can only instigate the change, it will take a few more auctions and top-quality catalogues, media interest, to gain momentum and lovingly transform the attitudes where most recognise the advantages to the new journey.
Could you tell us a bit about the market potential for historical vehicles in India? The Indian market is relatively nascent. However, we do have many collectors and enthusiasts here. What drives them- the engineering of the vehicles, the provenance or what else? Any specific difference you find here compared to other markets?
Next to the house, the automobile is the most important man-made object. Its multi-dimensional nature, from being a potential scientific and engineering masterpiece to a design and aesthetic delight, fuelled with the possibility of being cool and sexy, linked to the youthful craze for speed and style, provides a unique mix of interest, across all generations. In the last ten years, the European and US Historic Vehicles market have seen this collectible become the fastest growing investment opportunity, and with all the society related collective joys of car ownership, participation in rallies and various Concourse events, this has become a major aspirational and historic heritage nurturing collectible.
Osian's is taking forward the links with culture and the arts and automobile like few other institutions. It has been one of the founder patrons to the pioneering Osianama Research Center which has organised a new Research Department on Transportation, Travel and Tourism, and has organised a few events, conferences in the past and will do many more in the near future with the leading global Paris-based organisation – FIVA (the International Federation of Historic Vehicles) – and the Federation of Historic Vehicles of India (FHVI), along with other entities willing to collaborate, to provide the much needed academic health to the intellectual eco-system if the world of transportation and travel.
The Historical Vehicle is also a major family owned object with a multi-dimensional involvement across genders and ages. Its future in India is bright once a deeper respect for its history and the financial transparency of its market is assured. For the common citizen to feel a sense of belonging and oneness it is fundamental that many more rallies and pan-national exhibitions are organised, on the street and in the conference hall equally.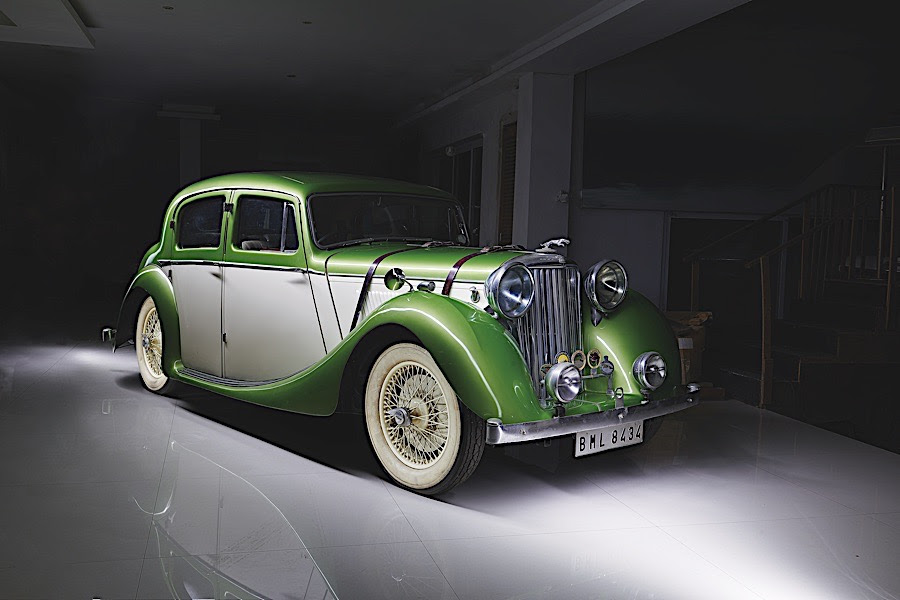 Osian's has done significant analysis and documentation of Vintage cars, as can be seen from your catalogues as well as information posted online. I have seen this across your other catalogues as well. These are collection worthy themselves! Could you briefly tell us about the processes behind this?
Osian's tradition from day one when it became India's first auction house was to privilege research and the catalogue. This was pivotal for changing mindsets. To take forward this tradition the Automotive Division needed to bring on board an eminent world authority. So author-historian, and automotive and transportation expert, Paris-based Gautam Sen was selected. He has brought his vast knowledge base and his "library" of information, material and documentation. The Osianama Research Center, will develop a larger dedicated team devoted specifically to researching, collating and documenting information on historic vehicles in India, from every source available. This is an ongoing independent academic process, with many scholars and researchers to join in the coming months. It serves the market as it does academia. Transportation will always straddle this cusp of Lakshmi and Saraswati.
While restoration costs may be relatively low in India, there are high import duties. How does this impact the market?
This is the main area where the government needs to act and bring the necessary change in the laws as there is no risk to the domestic automobile market from Vintage and Classic car importation. Once upon a time Maruti, Gist and Ambassador needed protection, no more. Duties must be slashed on importing historic vehicles. Exports can still be curbed especially of Vintage vehicles.
By keeping the markets "closed" or "restricted" to imports, the prices in India for most historic vehicles is significantly higher than international prices. Thus, the "cost of entry" into the world of historic vehicles in India is higher than in the international markets, and the availability of vehicles are limited. Thus, there is a tendency for the same or similar set of vehicles to "circulate" within the historic vehicle marketplace. At the same time, if we follow the definition for historic vehicles as provided by FIVA, which is any vehicle that is more than 30 years old is historic, then every year a whole set of automobiles should come into the definition of what is a historic vehicle. Most of them would be Indian made automobiles, but we believe that it is important to recognise these as historic too, in fact, more so, as they are all intimately associated with the history of our country. Logically, we should see more and more vehicles coming into the marketplace, and more and more "newer" enthusiasts joining in. Markets are still nascent, many changes are imminent, it is the collectible market to nurture.
While the auction is over, the saga still continues. If you harbour an interest in Vintage & Classic Automobiles do have a look at Osian's well-researched and absolutely stunning catalogue! For further information, please log on to http://www.osians.com