Indian publishers have come up with a great variety of bilingual books to introduce regional languages to children from an early age. However, for those who live abroad, the story is different. There is either a paucity of such books, or they are not accessible for parents and caretakers who may not be fluent in reading the local script. Geneticist Pridhee Kapoor sensed a lacuna in the market when she was looking out for books in Indian languages for her kids, while living abroad. Hence, she decided to write and publish such books herself. Three books later, the Founder and CEO of T4Tales is all geared up about the world of opportunities that this venture has opened up.
Excerpts from a conversation…
 Can you talk about the three books you have published so far?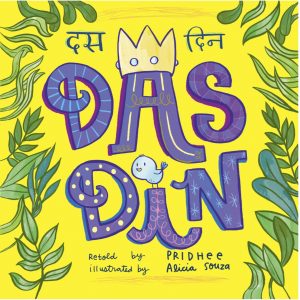 Das din, is an interactive lift the flap and pull tab Hindi board book for 0-6 year olds.
Gol Mol Bol is an old Hindi nursery rhymes book with downloadable music by Ramya Shankar for 0-6 year olds.
Bolo Kya? Is a lift the flap Hindi board book for 0-2 year olds.
All three books at the moment are in Hindi.
The books have the English transliteration of the Hindi script. Hence, it is easy for an adult who cannot read Hindi, to still read the book to the child thanks to the transliteration. Why did you choose this path, as opposed to say, having the English translation state the meaning of the sentence?
The objective has always been to spark an interest in children to learn Hindi in a fun way. But if you have a cheat sheet in English, it stops you from achieving that objective. A child or a parent will always take the easy way out and just read the book in English. The Hindi teachers I have met here complain of the same challenge with the current set of books at their disposal.
When we started writing the content, we were considering doing the books in only the actual script. When we showed our prototypes to some parents, most of them got back saying "Oh wow! I struggled to read the Hindi script. It has been too long" or "Oh I didn't study Hindi when I was in school but I would like my child to learn Hindi". Based on that feedback, my father, who has been in education for the last 30 years, suggested that we add the English transliteration, to help the parents and also older kids (who are confident with phonics) to read Hindi. It gives the child a sense of pride being able to read a Hindi book. Especially so for an older child who is trying to get comfortable with speaking and reading Hindi.
I also believe that there several other Indian book publishers that do a wonderful job with Hindi (and English translation) books.
The main purpose of the books seems to be introducing Indian languages to young children, with books especially targeted to their age group. What are some of the other benefits of the books that you have noticed?
Yes, the books by T4Tales are specifically for introducing the Indian language to infants and really young children.
I have heard back from parents of older children who didn't think their kids would enjoy the book saying that their children have shared the books with teachers in class about how they good they felt to be able to read the book. I had a mom share with me that her 6-year-old daughter enjoyed the book so much that her daughter practiced her script writing by copying the words from the book on her own without the mom having to ask. That for me was a nice surprise since we were always targeting really young children.
T4Tales has published three books so far. While Gol Mol Bol comes with downloadable music. Bolo Kya? makes use of flaps and Das Din also has flaps and tabs. Can you talk about the inspirations behind the crafting of the books. They all have different formats, though the goal is the same.
I once attended a talk in Singapore about the history of pop ups and other interactive features in books. Popups had started coming up in the 1770s and were not made to keep children quiet or to teach them. These books were made to give children pleasure and help them understand the spatial orientation and movement being described in the books. Today's children learn that easily from watching movement of characters on screens (especially in animation). They don't need the books to help them understand. I was very intrigued by this. So I thought 'What if we did it the other way round? What if you used interactive features to take kids away from screens?'
And that became my goal – to make board books with interactive elements that are so much fun, that kids don't need to, or want to look at the screen to understand and learn something! Although financially the costs become higher, but if I can manage to pull one child away from the screen to learn Hindi, my job is done.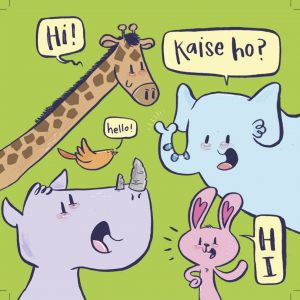 Currently, T4Tales has book for the 0-4 age-group. Can you share your growth plans for the future?
Based on the objective of T4Tales to expose little ones to Indian languages in a fun way through board books, we plan to do more board books with fun interactive elements. We hope to able to publish in other languages as well. We have always been asked if we would consider Tamil or Marathi or Gujarati. We hope to publish in those categories in the near future.
Can you share any interesting feedback that you have received from the parents who bought the books?
Staying in Singapore, when I shared the books with a school library that offered Hindi as a subject, to my surprise, the librarian got back to me saying that she had noticed that not only the Indian children but also children that did not speak Hindi were picking up our books. For me that was a great feedback in terms of illustrations. Pictures don't speak a language yet can convey meaning. If the illustrations are able to connect with a child that can't speak Hindi, the book in my mind has completed its objective of engaging that child to pick up a book and not a screen. To me that was the biggest benefit of a well-illustrated and good quality book.
Parents have got back saying that they are excited to read a Hindi book that won't fall apart at the mercy of the little one's hands!
What kind of retail and distribution model do you follow for the books in India and in Singapore where you are based? Are they available worldwide?
At the moment most of the retail and distribution for T4Tales is directly through us or online through Amazon US, Amazon India and Shumee in India. But recently we have been contacted by boutique bookstores in India and US to stock our books. Our books are available on Amazon US which automatically makes it worldwide.
T4Tales has made an amazing start and opened up a world of possibilities for parents who want their young kids to be in touch with their mother tongue. We're surely looking forward to new releases that promise to take our little ones on another flight to fantasy!