Tsering is setting off home after completing his tasks for the day. His taste buds tingle when he thinks of reaching home and relishing the yummy noodle soup, thukpa, that his grandmother (Abi) will cook. He encounters many people on the way, and invites each one to taste this delicious soup. But, will Abi be able to cook for so many? Will she have enough ingredients so that no one goes hungry? Well, when people have big hearts and a desire to share, there is always plenty for everyone!
Read the tale carefully and you will see that it is told from a blind child's perspective. In that sense the narrative is layered. It gently weaves in multiple themes: the story of a visually impaired child who confidently and independently manages himself, a story about a close-knit neighbourhood community as well as a window into the exquisite beauty of Ladakh.
The simple story has a very heartwarming end…not to mention a delightful thukpa recipe as well!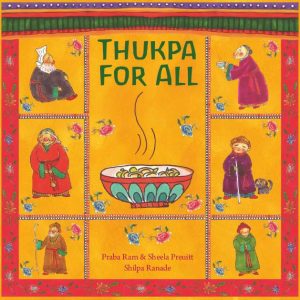 Bringing Ladakh alive
Thukpa For All brings Ladakh to life. The beautifully rendered illustrations show the natural splendour of this cold desert located in Jammu and Kashmir. Right from the clothing that the characters wear, to the minute details of the region (such as prayer flags fluttering and a pristine river flowing) the reader sees a vivid picture of Ladakh. The use of a few words from the local language makes the story sound more authentic.
In short
Thukpa For All is a story about sharing and caring set amidst the breath-taking landscape of Ladakh. A sub-theme also concerns itself with the normalcy with which a visually impaired child goes about his daily routine. This is also a great book to introduce children to the beauty and unique culture of Ladakh.
Title: Thukpa for all
Authors: Praba Ram and Sheela Preuitt
Illustrators: Shilpa Ranade
Publisher: Karadi Tales
Genre: Children's books
Age group: 4 years onwards