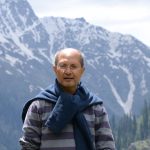 Deepak Dalal is well-known for his wildlife fiction books centred around the flora and fauna of the Indian subcontinent. His adventure filled stories are often set in the jungles of India or natural havens in the country. Besides the thrill of an adventure novel, his works provide a glimpse into our rich natural heritage.
Bookedforlife chats with him to know more about his work…
You gave up a career in chemical engineering to write books for children. Can you share your motivation for this?
I hated chemical engineering! The only reason I became a chemical engineer is because we have a family business that requires engineering skills. But, when I finally graduated as an engineer and started working I came to realize that I was in the wrong place. My heart was not in an office job. I preferred the outdoors, wilderness areas, wildlife and adventure. So, a few years down the line, I switched and started travelling and writing books for children.
How has the writing journey been?
The journey was difficult to start with. I hadn't studied creative writing and I had to train myself. This took a while​. But now the going is great. I enjoy my work and look forward to it on a daily basis.
It is unusual to find fiction books set in the Indian wilderness, talking specifically about Indian birds. What was the inspiration behind the Feather Tales Series?
Let alone children, even adults know so little about birds. Most of us live in urban environments and the only birds we are aware of are crows, pigeons, sparrows, kites and parakeets. But India is home to 1200 species of birds. Birds like hornbills, cranes, storks, orioles, ibises, pelicans, kingfishers, flycatchers…the list is endless. The inspiration behind the 'Feather Tales' series was to make children aware of the beautiful birdlife we have in our country; to connect them with birds, and hopefully convert them into birdwatchers someday. ​
The Feather Tales series:
[amazon_link asins='0143441744,0143427903,0143427911′ template='ProductCarousel' store='bookedforlife-21′ marketplace='IN' link_id='555021ec-324f-11e8-a589-dd5fb2c0067f']
Some of your books, such as the VikramAdtiya adventure series, are used as supplementary texts in schools. Do you feel fiction can be used as a tool for teaching facts?
​More than a hundred schools have used my VikramAditya books as readers. There is no finer way to learn than​ through a page-turning story. The story captivates the reader and while the story unfolds, titbits of wildlife, history, flora and fauna are unconsciously digested by the reader. Stories are great tools. ​
The Adventure Series set in Indian wilderness:
[amazon_link asins='9383260661,938261897X,9382618457,938326067X,9382618449,9382618961′ template='ProductCarousel' store='bookedforlife-21′ marketplace='IN' link_id='93254b28-324f-11e8-b264-759bff387278′]
 India has a rich heritage of flora and fauna. How can urban parents create a sensitivity and connectivity to nature?
Travel. Visit wildlife and bird sanctuaries. Learning is wonderful when it is experiential. ​India is blessed with many wildlife and bird sanctuaries. Start early, while kids are young. Wildlife and birdwatching are great pastimes and if children are drawn to them while young, they will keep returning for the rest of their lives.
What are some wildlife fiction books and books on nature that you have loved and would like to recommend? 
​I quite like Watership Down, a fantasy adventure novel by English author Richard Adams and books by Jim Corbett. I would also recommend reading the National Geographic and the Sanctuary Magazine​s.
In a time when unscrupulous human activity threatens the natural world, wildlife fiction books have a great role to play in sensitizing the younger citizens of the world to the beauty that they must not lose!