Soul Warrior is the first book in the trilogy, The Age of Kali, a mythical fantasy fiction series by New York based novelist Falguni Kothari. Soul Warrior, published by Om Books International, draws from the rich character base and events from the Mahabharata, but presents them in a completely refreshed format (Quite literally since they all enter the 21st century!). There is the fictional law-governed Cosmos made up of heavenly, demonic and human realms and its protagonist, Lord Karna, the legendary guardian of the Human Realm, is coerced into training six godlings into demon hunters against a rising demon army.
There is a struggle between the Light and Dark forces of the Cosmos, and also the inherent question- how exactly do you know who are the light forces and which ones are the dark? Then there is the race to control the one soul capable of total cosmic annihilation- demi-god Karna's and Draupadi's secret child!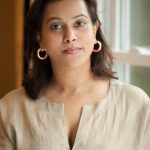 Bookeforlife caught up with Author Falguni Kothari on her fleeting visit to Mumbai for a literary tête-à-tête. Excerpts…
'Soul Warrior' gets Karna and Draupadi together, in a romantic relationship. For all of us who are fans of the Mahabharata this could well be a secret fantasy playing out! What led you to toe this line?
I wanted Karna and Draupadi to have a happily ever after, or some version of it. Karna is the quintessential tragic hero, the man who was wronged for possibly every moment of his life and yet he was generous and honorable in his dealings – well, honorable in most cases except in Draupadi's, especially during the vastra haran. Despite that dishonorable act, Karna comes across as sympathetic and deserves an eternity of happiness. As you can tell, I am a little bit biased toward him.
 Having also read mythological adaptations such as the Palace of Illusions and Jaya and Yuganta, and Mrytyanjaya etc, I felt justified, surprised and confident about writing an adaptation of Karna and Draupadi's stories.
 I've lived with Mahabharata all my life. Growing up in Mumbai, surrounded by our myths and legends, immersed in our culture, I've always questioned the meaning, the motivations of all the characters. I've always looked at the stories from different angles. I grew up listening to these myths and legends from my grandmother and her malishwalibai. And only later, when I was in middle school did I realize they'd told me the unconventional versions—the feminist versions, the versions where the women had a voice, even the center stage! In their versions, the women were equal protagonists and fate-changers as the men. It was only later, after I grew up, did I truly appreciate this unique female-driven point of view, which I hope I've managed to weave in through Soul Warrior.
It's quite interesting that you have placed mythological characters from the Mahabharata in the 21st century. What was the intent behind this?
I'm glad you find the concept interesting. Well, from the moment I started writing this story or even before…when I was thinking of using myths as the platform for a story, I was very clear about not wanting to simply retell the myth with a twist or two. The Mahabharata has been retold, revisited so many times, that one more version of it didn't appeal to me.
 One of the questions I repeatedly asked as a child was, "If they are all up there in Devlok right now, what exactly are they doing there?" This series is an attempt to answer that question!

 
'Soul Warrior' is a serious fantasy novel. Yet there are hilarious bits and instances. Was it challenging to combine the two?
 Not at all. It happens almost unconsciously for me. I'm humorous and philosophical in parts on a daily basis. Having said that, I did choose to tell the story in terms of a comic book. I think it would make a great comic book, right?
Soul Warrior is the first book in the series. How many books have you planned?
My contract with OM Books is for a trilogy.
Mythological fiction is an exciting genre and has recently become very popular in India. What do you think is the reason for this? What is specifically appealing for readers of this genre?
For Indians, mythology is their backyard. They've played with these stories, grown up surrounded by them, the gods and the goddesses, the key players of the myths, even the demons have become their invisible friends, maybe even their family members. Mythology is at once fun and entertaining, and a serious life lesson for Indians. It's simply a part of our lives. This genre is our comfort zone because we recognize it, and identify with it. That's what's so appealing about this genre.
You live in New York. Is the readership of the book predominantly in India or have readers in USA also connected with this story?
I'd say I have a 50/50 readership between US and India. While Indians do connect with this story on a visceral level, my readers in the USA are equally fascinated by it. Karna appeals to everyone. That's his superpower. Of course, the readers unfamiliar with the Mahabharata or Indian mythology lose out on so many nuances that Indian readers treasure. I usually tell them to think of Karna as the Indian Achilles.
Any interesting feedback you have received from readers of 'Soul Warrior'?
Plenty. Indian readers are super excited that I've brought the Gods into the 21st Century. While non-Indian readers have thanked me for introducing them to this whole other mythology that they never knew existed. I've had readers Google Karna, Draupadi, the Mahabharata and email me about their findings. It's amazing how much joy a story can bring into our lives!
Soul Warrior brings back much loved characters from the Mahabharata in a tale filled with timeless legends and set in a wonderfully imagined fantasy world. Epic indeed!
Soul Warrior by Falguni Kothari
Publisher: Om Books International (July 2017)