Did you know that Venice was one of the ancient seats of the book trade? Bookbinding as an art flourished in the venetian society. If you walk around the maze of lanes in Venice today, you are sure to stumble upon some great book shops where books are objects of art.
One such haven is a store named Charta. The store has a long history and has been present since 1975.
 Its customers cross over generations. Dario Ustino, Venetian son of a Venetian mosaicist runs the store. The store has many beautiful products: Books, bookmarks, art prints and furniture and accessories as well.
Bookedforlife presents some snippets of conversations with his wife, who lets us peek at the wondrous literary gems that Charta has to offer!
Venice has a long history of bookmaking. In this day and age, where people read a lot on the internet, do you feel that books have lost their place?
Books have never lost their place.
There is a more important enhancement for ancient, illustrated and valuable books. These books will never be replaced with the internet. With time there will be a tendency to publish only valuable books with a nice personalized cover to keep in a timeless collection. Restoration and classic books are increasingly demanded and the bookbinders are really too few in the world.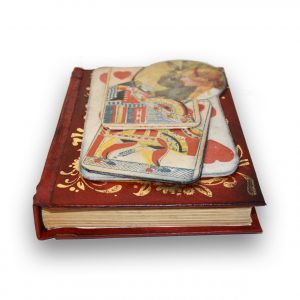 You take rare books, often around 100 years old, that have seen better days and restore them with some beautiful customized bindings. Can you tell us about your process: How you choose books, what effort goes into restoring them?
The process is very classic and innovative at the same time.
The restoration and cleaning of the pages are carried out using traditional methods, while the binding is made with an innovative technique using leather cloth and gold leaf with the care of reproducing a cover that is consistent with the era of the book.
 All our books are original edition, restored and rebound with creative binding in leather and other decorations. Each work is one of a kind.
Your furniture, especially the bookcases are extremely beautiful. Do you manufacture them yourself?
Miniature bookcases are a very important passion for my husband Dario Ustino, the creator of most of our work.
 He has a collection of vintage Victorian pieces and with local artisans he also manages to produce copies of miniature bookcases with different themes.
What is the role of a bookbinder especially in context of vintage books?
Lovers of good books need to travel a lot to find vintage books, which are sometimes in bad condition. Then, they need to find a good bookbinder who can handle the restoration of books.
how Can we buy your products?
To buy our masterpieces you must come to Venice in our unique store of charm or on our website www.chartaonline.com
Tastes change constantly but the passion for books as valuable objects never goes away!  Charta shows that bookbinding is very much alive as an art.