Books let us live and explore places we have never seen before. They make us experience situations we might consider impossible. In all, books allow us to live many lives all at once. Here are some books that will take children for a very enchanting ride! Read on…
Where's Gilbert: The Not So Little Princess
Age Group: 5 to 6 years
More often than not in life, we don't value the things we have. We value them only when they get lost! Something similar happened to the royal teddy bear, Gilbert! Rosie, the little princess, thinks she's not so little anymore and ought to stop playing with the teddy. But, the teddy is lost!  Did someone steal Gilbert? What will Rosie do?
What we love: We love how Rosie and Gilbert, through their friendship, teach us to value things that we own in our lives, in a beautiful manner through the book.
What kids will love: Kids will love Gilbert, the teddy bear, and his adventurous journey of meeting new friends and traveling across the city. They will love the quirky and funny illustrations in the book.
Adam Stower's Two Left Feet.
Age Group: 5 to 6 years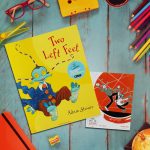 This book is about Rufus, the monster who absolutely loves dancing. He is invited to the Grand Ball at The Glittering Palace. However, there's one problem. He has two left feet and that creates a mess while he dances with other monsters, leaving him with no partner. Finding a partner in time for the Grand Ball is going to be very tough. Does he find a partner in time? Does he go to the ball alone?
What we love: We love how Rufus, with all his differences, learns to accept himself and heads to the Grand Ball.
What kids will love: Kids will love the monsters and funny illustrations that play as part of the book. They will also love Rufus's dance moves.
Isla Fisher's 'Marge and the pirate baby!'
Age Group: 7 to 8 year olds
Now, do you know who a pirate is? They are evil pillagers that ride stolen ships. Well, you know what a baby is? A cute little cuddly ball of love! But wait! What's this talk about a pirate baby? Is this a cute and cuddly baby or a misinformed pirate? And who's Marge? And what are Marge, Jemima and Jake going to do next? Find out in Isla Fisher's 'Marge and The Pirate Baby!'
What we love: We love how Marge, the babysitter, manages her job at handling the annoying baby, Zara, and we love how, no matter what, she sticks to her job.
What kids will love: Kids will love the hilarious antics that baby Zara pulls to keep Marge on her toes all the time.
Michael Rosen's 'Barking for Bagels!'
Age Group: 7 to 8 year olds
Now, have you ever met someone with an annoying laugh? Like a guffaw HAHAHAHA or a screeching HIHIHIHIHIHI? Doesn't it make you wanna run away? Well, that's exactly what Shnipp, the dog, did. She disliked the way Julie and Lark and Sadie laughed all the time. It was so annoying that she ran away and then met an incredibly kind lady who fed her bagel on a daily. But, Shnipp now misses home and wishes to go back. Will she be able to find her way back home to Julie and Lara and Sadie?
What we love: We love the play of words and the definitions given in the book for kids to better understand a much BIGGER word.
What kids will love: Kids will love the foxes that Shnipp comes across when she's out and about. They'll absolutely love Shnipp and her serious cravings for bagels!
We hope you enjoy reading these books! Don't forget to share your experiences of reading these books in the comments section below and Click on the link below to enter an enchanted world of reading!