October 2nd will soon be upon us. We will celebrate the birthday of Mahatma Gandhi. Some of us will take the opportunity to narrate stories about Gandhi to our children. For the current generation of young children, the implications and impact of the struggle for independence is something they have not known in their collective consciousness. But, they do know about the far-reaching impact of the teachings of Gandhi. Hence, this would be the perfect occasion to introduce My Gandhi Scrapbook. The book is apt for all school going children, including older ones.
Sandhya Rao, the compiler of this unique scrapbook, is an avid scrapbook enthusiast. A Scrapbook is personal and it is a canvas to explore and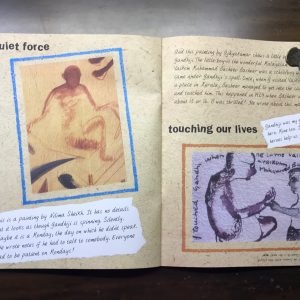 express your inherent creativity without being bound by any rules. My Gandhi Scrapbook does just that, making the father of the nation become a part of your child's life in a more participative way.
From the very beginning itself, she introduces this premise:
This Scrapbook is about my grandmother's hero. From the time I was very small, she told me lots of stories about him. I was hooked and I tried to find out more.
After all these years I am still discovering new things: in books, in films, on the net, from people. So, I decided to put these down in a scrapbook. This book is yours now- to cut, copy, paste, draw, write into.
My Gandhi Scrapbook is a very thin book almost mirroring the look of a typical scrapbook. It is a book in which the author invites the children to become active participants. There is information about Mahatma Gandhi, but there are many empty spaces calling on the child to fill with his own thoughts, feelings and reflections on what Gandhiji means to him or her. The child can draw, write, stick and colour into the book without any restriction.
The book thankfully abandons a chronological account of Gandhi's life. Instead, each page highlights some interesting aspect of his personality, or his life and influence. The pages are filled with many images and graphics: photographs, stamps, notes and what not. Quotes from his books and excerpts from letters are gently interwoven. You'll find interesting and less known nuggets of information as well.
In between all this are little activities for kids. They have a chance to try out drawing Gandhi's silhouette, stick their own pictures of him, scribble their observations, and of course, write down their own nuggets of information about Gandhi. This is one of those rare books which gives authorship to children. They are actively involved in making the book.
The last few pages of My Gandhi Scrapbook are blank. And that's the way it should be. They are for the reader to add what he or she wants to about Gandhi. At the end of it all, this is not a book they read. It is a path of making Gandhi truly their own! 
My Gandhi Scrapbook by Sandhya Rao